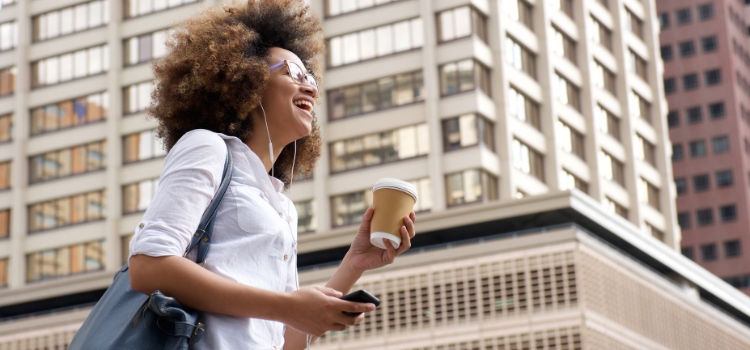 Guide to Visiting Downtown Washington, DC
The Downtown District of Washington, DC has something to offer everybody. Foodies on the hunt for great restaurants will love exploring the Chinatown District for 20 authentic Chinese and Asian restaurants, almost all owned by Asian American families. History buffs can learn everything about the United States and see some of the most important landmarks in the country, like The White House and The United States Capitol. And its business district is the fourth largest in the United States, serving as home to some of the biggest companies in the world like Lockheed Martin, Marriott, Hilton, and Amtrak. 
At DC Charter Bus Company, we have experience providing group transportation services in Washington, DC and the surrounding areas for all occasions. We have access to a vast network of charter buses, from 18 passenger minibuses for private events, to 56 passenger charter buses for large corporate events.
When you're ready to rent a Washington, DC charter bus for your trip, give our reservation specialists a call at 202-903-0059. And in the meantime, check out our guide to Downtown Washington, DC!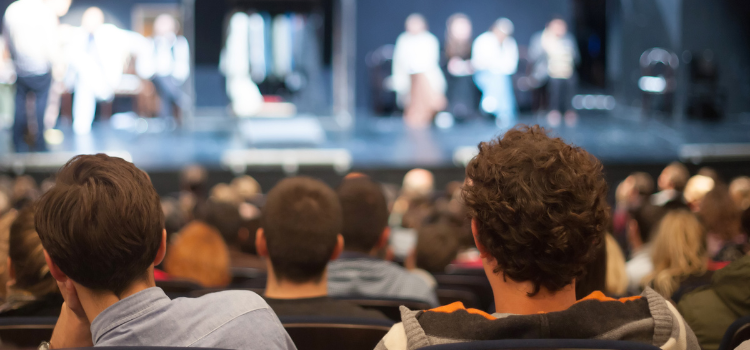 Arts & Culture in Downtown Washington, DC
You can find numerous museums, theaters, and other points of interest for arts and culture aficionados in downtown Washington, DC If you are taking a private tour of Washington, DC you will want to add a few of these to your list. 
International Spy Museum:

A museum with the largest public display of espionage artifacts in the world, it was founded by Milton Maltz, who served as a code-breaker during the Korean War.

The National Aquarium:

An aquarium that houses more than 20,000 marine animals, the National Aquarium has several different exhibits, including a multiple-story Atlantic Coral Reef.

National Portrait Gallery:

Part of the Smithsonian Institute, the National Portrait Gallery focuses on images of famous Americans who shaped the country's history.

National Geographic Museum:

A smaller museum with continually changing exhibits and photographs dedicated to scientific expeditions and exploration, including a Spinosaurus skeleton.
Downtown Washington, DC is also home to several theaters, including the infamous Ford's Theater, where President Abraham Lincoln was assassinated in 1865. Today, Ford's Theater serves as both a museum and space for performances. You can also find the Shakespeare Theatre Company in Washington DC, which includes works by not just Shakespeare, but also by other classic playwrights like Euripides, Oscar Wilde, George Bernard Shaw, and Tennessee Williams.
Charter bus tip: DC is generally considered a very walkable area. So when you need to park, sometimes it can be tricky, especially if you are flying in from another state and are unfamiliar with the area. Luckily, DC Charter Bus Company has got you covered! Rent a Washington, DC charter bus with us and you won't need to worry about finding parking.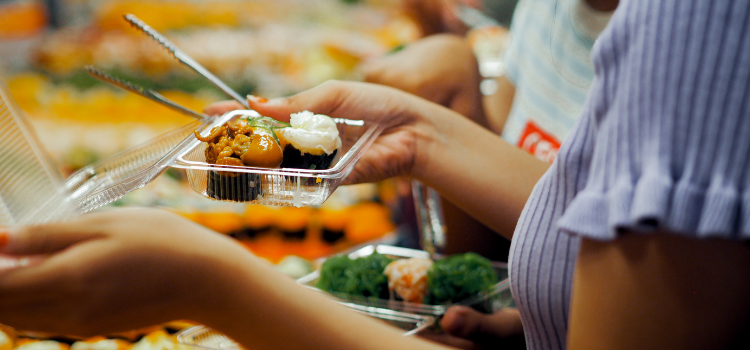 The Best Bars and Restaurants in Washington, DC
Downtown Washington, DC isn't all stuffy statues and heralded history. For those looking to take a break from the more serious side of the area, the downtown area has plenty of group-friendly breweries and restaurants to get a drink and relax. 
Below are some of our suggestions for the best restaurants and breweries in Downtown Washington, DC
Momiji:

A great spot for Happy Hour, this two-level restaurant serves hibachi-style dishes, handmade cocktails, and rolls with unique names like "Rock 'n Roll" and "White House Roll."

Chinatown Express:

One of Chinatown's best-known family restaurants, this smaller restaurant is great for a grab-and-go meal if you're looking for a quick bite before you continue exploring downtown DC Some of the best dishes include the soup dumplings, duck noodle soup, and pork buns.

The Smith:

Get some upscale American eats and specialty drinks at The Smith, and be sure to try the oysters – they are known for them! 

Capitol City Brewing Company:

This brewpub is known for its signature beers, like the Capital Kolsch. But you can also enjoy some great pub eats, like pretzels, crab cakes, and jambalaya. 

ChopHouse & Brewery:

Drink some craft beer and ale that's brewed onsite when you visit this restaurant/brewery with a sports bar theme. Menu standouts include the cornbread skillet and the house IPA.
The Penn Quarter and Chinatown areas are known for their many bars and restaurants, and a short strip between 7th Street NW between H and F Streets NW, called "Gallery Place," has tons of restaurants, bars, theaters, and upscale retail shops. 
Charter bus tip: Exploring the restaurants and bars in Downtown Washignton, DC for a bachelor or bachelorette party? Rent a Washington, DC charter bus to drive you and your group to and from your chosen locations. Let your experienced and friendly charter bus driver serve as your designated driver while you explore the many libations Washington, DC has to offer.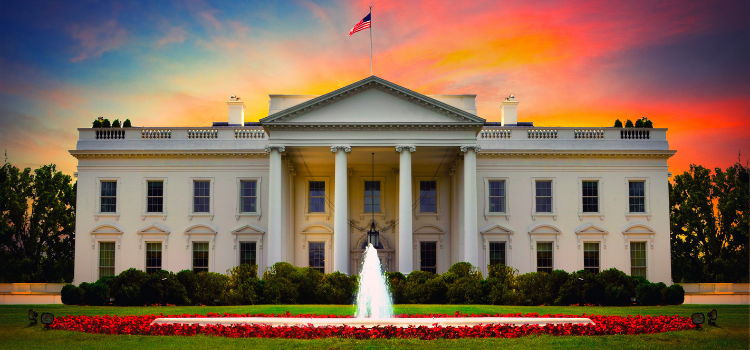 A Guide to the Golden Triangle 
The Golden Triangle neighborhood in Downtown Washington, DC covers 43 blocks, and serves as the heart of DC's business district. The neighborhood has more than 3,000 organizations, 200 restaurants, 300 shops and retailers, seven hotels, and six national parks. It's a wonderful area to take students for a field trip, as you can see almost everything historical that Downtown Washington DC has to offer. 
Here are some of the highlights for you and your group to visit in the Golden Triangle:
The White House:

The iconic home for every United States president since John Adams, The White House front lawn marks the beginning of the Golden Triangle district. 

Black Lives Matter Plaza:

After the 2020 murder of George Floyd in Minneapolis, local protests broke out in Washington, DC The area now has a painted mural dedicated to Black Lives Matter, and serves as a historical space for reflecting on racial equality. 

National Mall:

The National Mall is a short walk from the Golden Triangle, and the center for everything historical in Washington, DC It includes many important national monuments and buildings, such as The United States Capitol, Washington Monument, and Lincoln Memorial. 

The Renwick Gallery:

Located just steps away from The White House, The Renwick Gallery is a branch of the Smithsonian American Art Museum that is free to visit, and is dedicated to contemporary craft and decorative arts. 

Heurich House Museum:

This stunning Golden Age mansion was home to the city's most successful brewer, Christian Heurich. The first two floors of the house are perfectly preserved and even include most of the original furniture.
If you are a fan of standup and improv comedy, the DC Improv Comedy Club is also located within the Golden Triangle. First opened in 1992, it showcased comedians like Ellen DeGeneres, Dave Chappelle, and Brian Regan when they were newer to the scene. The club has a full restaurant and bar, meaning you can get dinner and a show at this spot in the Golden Triangle. 
Charter bus tip: The Golden Triangle is home to some of the most popular attractions in all of Washington, DC If you are traveling with a group, coordinating rideshares and finding parking can quickly turn into a nightmare. With a Washington, DC charter bus rental from DC Charter Bus Company, your experienced bus driver can handle the parking and drop you off exactly where you need to be, when you need to be there. 

The George Washington University Foggy Bottom Campus
Interested in seeing some of the colleges in the Washington, DC area? You're in luck. George Washington University, the largest institution of higher education in DC, has three campuses: Foggy Bottom Campus, Mount Vernon Campus, and the Virginia Science and Technology Campus. 
The biggest campus, Foggy Bottom Campus, can be found in the Downtown DC area a few blocks from The White House. The University Yard serves as the heart of the campus, along with the seven-story Gelman Library. Students at George Washington University can earn degrees in more than 70 different disciplines, and the school offers a vibrant Greek life and other student organizations.
Once you're done exploring the campus, hop into your charter bus with your group, avoid the hassle of parking, and soak up some of the history and entertainment the Foggy Bottom area has to offer. The National Symphony Orchestra and Washington National Opera are both based in Foggy Bottom. The Kennedy Center is also part of Foggy Bottom, along with the Watergate complex, site of the 1970s Watergate Scandal. When you are done exploring, grab a bite to eat at one of the many eateries in the area, like the famed Founding Farmers restaurant.
Charter bus tip: Renting a charter bus in Washington, DC is a great way to shuffle student groups to and from different parts of college campuses. The shared quarters fosters camaraderie, make communication between the group easier, and ensures that everybody gets there at the same time. DC Charter Bus Company has plenty of experience shuttling student groups around colleges in Washington, DC, and safety is our top priority. 
Explore Downtown Washington, DC with DC Charter Bus Company
Your bags are packed. The itinerary is set. You're all ready to go visit Washington, DC One more thing, though: Logistics! DC Charter Bus Company is ready to help take the load off when it comes to planning the logistics of your trip. Sit back, relax, and let your charter bus driver zoom you around the nation's capital in comfort. Give us a call today at 202-903-0059 when you are ready to get started!
Do you need to rent a charter bus?
We can help. Call us any time at 202-903-0059 to reserve yours!