Best Washington, D.C. Restaurants for Groups
Thanks to Washington, D.C.'s abundance of politicians, NGOs, and nonprofits, the city's restaurants have plenty of experience in hosting large groups. That means it's easy to find great places to eat during your next corporate event, field trip, or sports tournament—but it also means your group will have a ton of options to choose from.
So how do you figure out which restaurant is right for you? D.C. Charter Bus Company has created a list of group-friendly D.C. restaurants that serve different cuisines (Ethiopian! Mexican! Serbian!) so you can pick the one that works best for your group's tastes. And if you need an easy way to get there, we'd love to help.
Our bus company provides comfortable minibuses and charter buses to take you to your dinner destination without the need to worry about parking or appointing DDs. Just give us a call at 202-903-0059, and we'll find a coach to drop your group off at one of the exciting restaurants below.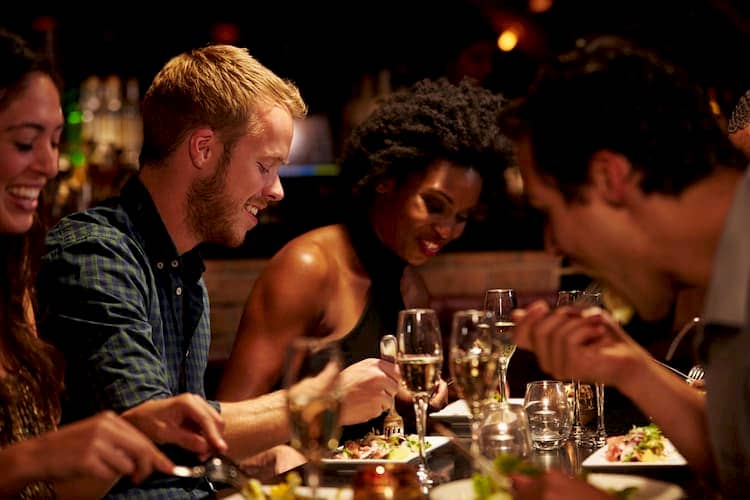 American Cuisine
The Smith
This elevated American restaurant bar in Penn Quarter. The restaurant is close to many monuments and museums, and offers upscale private dining spaces where your group can savor dishes like brick-pressed chicken, steak salad, and ricotta gnocchi. Many of the salads and pastas are vegetarian, and gluten-free pasta is available by request.
You can make online reservations for up to 20 people. If you have more than 20 people, The Smith provides private dining for up to 30 people. There isn't designated parking, however, so it's a good idea to have your charter bus drop you off if your group isn't comfortable taking the Metro.
Addresses: 901 F St NW, Washington, DC 20004
Logan Tavern
Named for its location near Logan Circle, this casual tavern is a popular brunch destination and offers two colorful private rooms, the Blue Room and the Red Room. If you don't want to go all out for private dining, the restaurant also takes reservations for up to 20 people.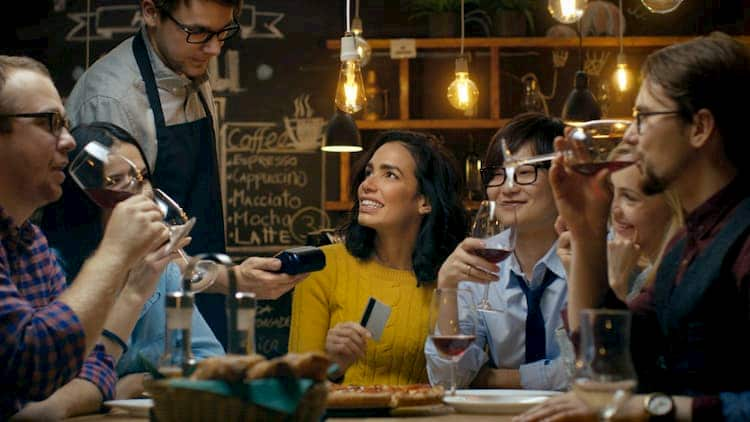 The menu here showcases American classics like meatloaf, ribeye, and boneless Southern fried chicken. Much of the produce comes from EatWell Natural Farm, which delivers fresh fruits and vegetables to Logan Tavern and several other local dining spots. Like many DC restaurants, Logan Tavern has no designated parking, but your bus can easily drop off your wedding party or corporate group at the front entrance.
Address: 1423 P St NW, Washington, DC 20005
Ethiopian Cuisine
Dukem Ethiopian Restaurant
D.C is home to the largest community of Ethiopian immigrants in the U.S., so the city is packed with delicious Ethopian restaurants. If you've had Ethiopian food, you don't need us to tell you how delicious it is. If you haven't, Dukem Ethiopian Restaurant is the perfect place to expand your culinary horizons.
Located on U Street in the heart of D.C.'s Little Ethiopia, Dukem welcomes large parties with an online reservation. If you'd like a private room, you can book the VIP Bar by calling 202-667-8735. When you arrive, you'll dine on platters of vegetable, lamb, fish, or beef stew on top of injera, a spongy flatbread used to scoop up the stews.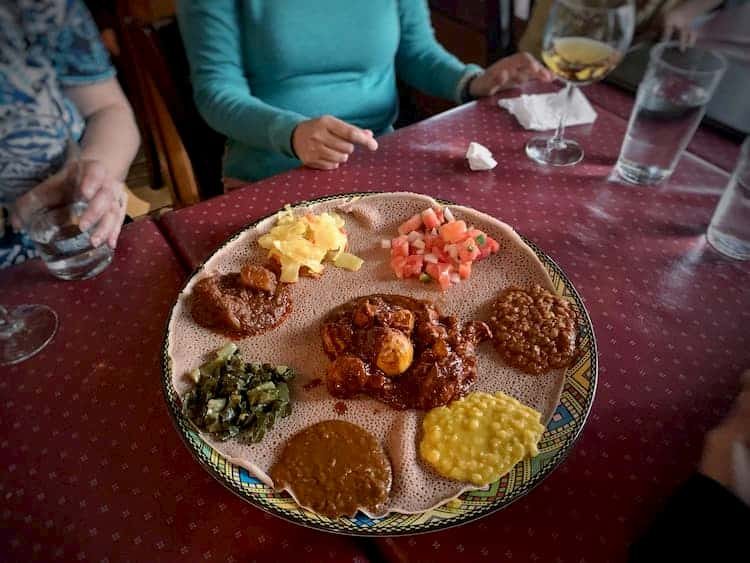 Image credit: Flickr
If you're traveling with kids for a religious or scouting trip, this is a great chance for them to learn about Ethiopia's food and culture. Since the restaurant doesn't have its own parking, a minibus offers an easy way to get there without your kids having to navigate the Metro or split up among rideshares. Your driver can drop you off in front of the restaurant and return at the end of your meal to pick you up.
Address: 1114-1118 U St NW, Washington, DC 20009
Italian Cuisine
Carmine's
Another downtown D.C. restaurant in Penn Quarter, Carmine's serves Southern Italian dishes like chicken scarpariello, veal saltimbocca, and salmon oreganata. You can even build your own pasta by choosing a type of noodle (like angel hair, linguine, penne, spaghetti or rigatoni) and a type of sauce (like clam, red, white, garlic and oil, or marinara).
Carmine's serves its food family-style, which makes it a really fun option for groups. You can book space in the main dining room for up to 20 people or reserve 1 of 8 private rooms for your group of 15-800 people. Once you're at the restaurant, order ravioli with cheese, shrimp scampi, eggplant parmigiana, tiramisu, and other dishes for your entire table to share. If you'd like to order a few bottles of house wine too, your charter bus driver can serve as your DD so everyone gets back to the hotel safely.
Address: 425 7th Street NW at E St NW, Washington, DC 20004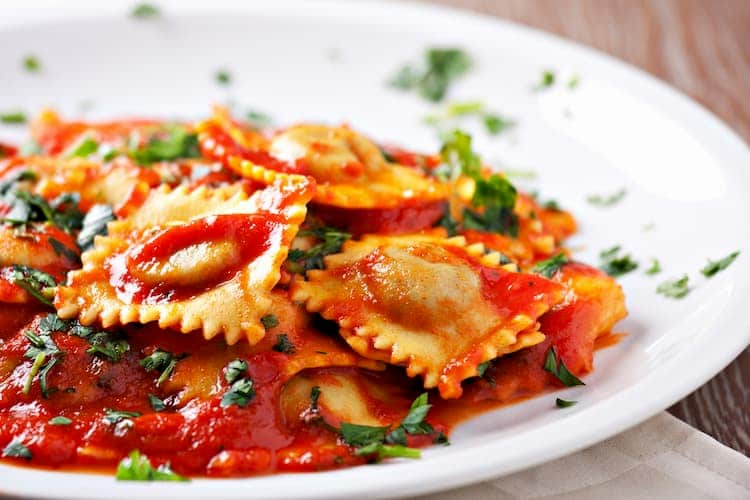 Mediterranean Cuisine
Zaytinya
If you're a fan of Food Network, you've probably heard of celebrity chef José Andrés. His Eastern Mediterranean restaurant, Zaytinya, lies in Penn Quarter near the National Portrait Gallery. This spacious eatery has multiple private rooms that can be requested online and that accommodate anywhere from 18-300 people.
Zaytinya focuses on small plates, so you can try a variety of dishes from kibbeh to chicken youvetsi and knisa lamb chops. Vegetarian options include mushroom couscous, seared halloumi cheese, spanakopita, and piyaz. And don't worry if you're traveling with some conservative eaters—the restaurant has familiar favorites like hummus and falafel, and you can request WiFi on your minibus to help your fellow travelers research which dishes they may like.
Address: 701 9th St NW, Washington, DC 20001
Kingbird
If you're traveling with a bunch of history buffs, you'll want to plan a lunch or dinner at Kingbird, which lies inside the infamous Watergate Hotel. The restaurant's reputation is anything but infamous, though. This fine-dining spot frequently hosts corporate groups and guests attending performances at the Kennedy Center later that evening.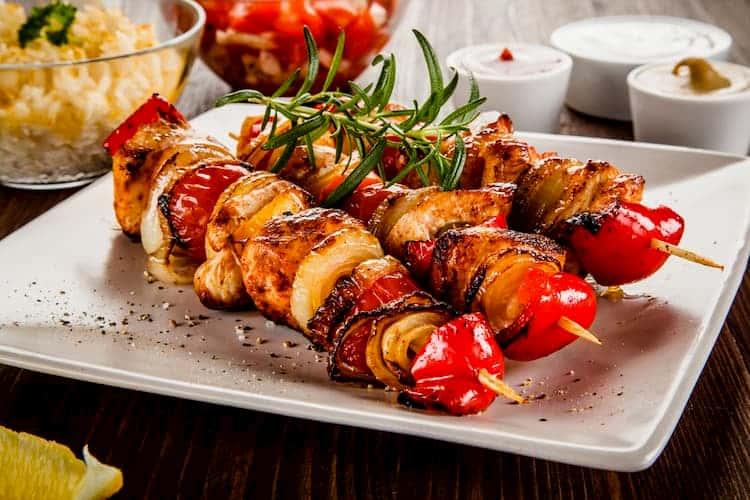 You can reserve a table for up to 20 people online or book one of 6 private event venues. If you opt for private dining, you can enjoy meals like a family-style brunch, a prix-fixe lunch menu or a family-style dinner. When you're with a smaller group, you can order off a menu that includes eggplant caviar, zucchini crepes, grilled octopus, and Mediterranean branzino.
Address: 2650 Virginia Ave NW, Washington, DC 20037
Mexican Cuisine
Lauriol Plaza
Lauriol Plaza serves traditional Mexican cuisine like fajitas, enchiladas, quesadillas, and tacos. It's known for its frozen margaritas that come in flavors such as lime and mango and for having an incredibly spacious building in the heart of Dupont Circle. The restaurant can easily host large parties and has space for up to 120 people on its temperature-controlled rooftop.
Unlike many other restaurants on the list, Lauriol Plaza does offer parking, but it's limited. Carpooling in a minibus or asking a charter bus to drop you off outside the restaurant will still probably work better than letting your entire large group drive separate cars.
Address: 1835 18th St NW, Washington, DC 20009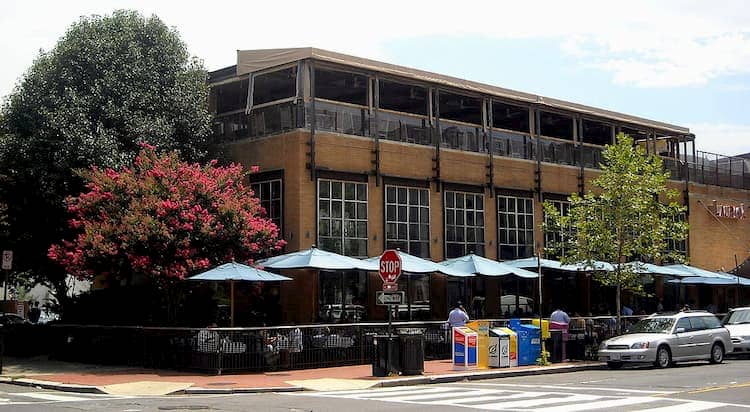 Image credit: Flickr
Mi Vida Restaurante
Owned by Chef Roberto Santibañez, a renowned chef from Mexico City, Mi Vida serves elevated versions of classic Mexican street food. Dine on enchiladas, carne asada, or costallitas con mole while taking in the building's beautiful views of the Potomac.
This Southwest waterfront restaurant has multiple private and semi-private spaces, including rooms that overlook the river. If you have a big enough group to book a private space, you can fill out an online form to begin the reservation process and choose from personalized prix-fixe and family-style menus. Smaller groups can quickly book online and then order delicious Mexican food from the regular menu. Your charter bus will drop you off near the waterfront so your group can take a stroll and explore after your meal.
Address: 98 District Square SW, Washington, DC 20024
Spanish Cuisine
Boqueria
This Spanish tapas bar boasts two locations in D.C. The Dupont Circle location can accommodate groups of up to 16 people in its regular dining area, up to 30 in its private room, and up to 108 in the entire restaurant. The Penn Quarter location can host slightly larger groups, with up to 18 people in the dining area, 44 in the semi-private dining loft, and 118 in the entire restaurant.
When you arrive at Boqueria, you can order from a menu that includes charcuterie and cheese plates, a tortilla española, boquerones (anchovies!) and albóndigas (Spanish meatballs!) And since it's a tapas bar, your entire table can share the selections all of you choose. If you think Boqueria would be a good fit for your group, ask your charter bus driver to drop you off and use this form to book your event for 13-108 people. If you have 12 or fewer people in your group, you can simply make your reservation through OpenTable.
Addresses: 1837 M St NW, Washington, DC 20036 (Dupont Circle)
777 9th St NW, Washington, DC 20001 (Penn Quarter)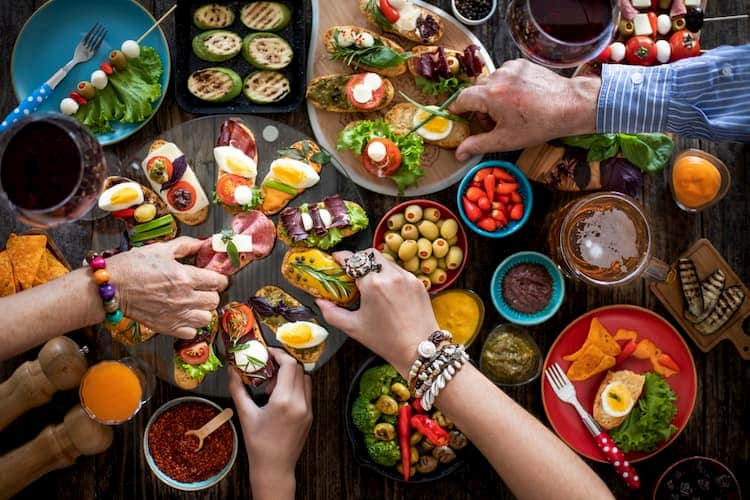 Taberna del Alabardero
Located close to the White House, Taberna del Alabardero was the first Spanish restaurant in D.C. when it was opened in 1989. Today, it continues to serve tapas as well as paellas and sangria under the supervision of Head Chef Carlos Gómez Segovia. Order iberico ham and patatas bravas to start your meal, and then share paella de langosta with your table.
You can book through OpenTable to hold a group meal in the main dining room, at the bar, or on the patio. If you're interested in private dining, Taberna del Alabardero has three quiet rooms with special menus available for 10 or more people. You can reserve the private dining rooms by calling 202-429-2200 or emailing taberna.dc@alabardero.com. The restaurant does have parking, but it's a shared lot with other businesses on the street, so if you're with a large group sharing a minibus or getting dropped off by a charter bus is probably your best option.
Address: 1776 I Street NW, Washington, DC 20006
Book Your Next Group Dinner at One of These D.C. Restaurants
Once you've decided what type of food would suit your group best, go ahead and make reservations before your next trip to Washington, D.C. Then give D.C. Charter Bus Company a call. We'd love to provide a charter bus with an experienced driver who can drop you off for lunch or dinner and then take you safely to your next museum or back to the hotel. You can reach us at 202-903-0059 to book your transportation and explore the nation's capital.
Do you need to rent a charter bus?
We can help. Call us any time at 202-903-0059 to reserve yours!