Your Smithsonian Museum Group Guide: Visiting the American History Museum, Natural History Museum, and BONUS National Gallery of Art
Experiencing arts and culture in Washington D.C. is a favorite for travelers in the United States, considering most museums in the district are completely free of charge and feature expertly curated collections. They're fantastic destinations for field trip groups and private tour groups interested in making the most out of their visit to the nation's capital without breaking the bank.
In this guide, we'll walkthrough everything you need to know to plan a group trip to two popular Smithsonian museums, as well as a free art gallery found on the National Mall:
The American History Museum
The Natural History Museum
National Gallery of Art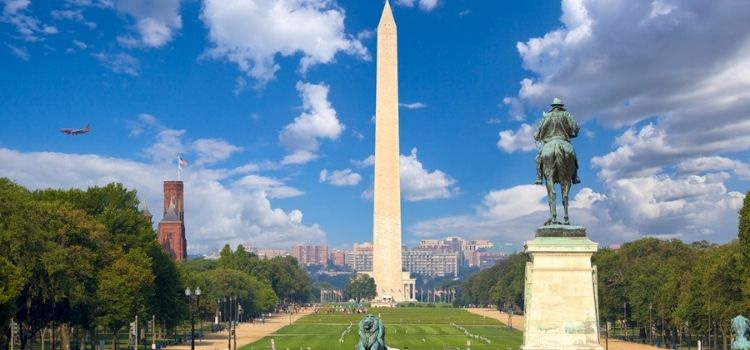 How to Travel in Washington D.C.
While in Washington D.C., you have a variety of options for traveling including rideshares and the Washington Metro. However, if you're traveling with a group who you want to keep all together and on schedule, a private charter bus rental is the way to go.
Charter Bus Rentals in Washington D.C.
If you're planning on traveling with a group to the National Mall (where the Smithsonian museums and National Gallery of Art are located), a private charter bus rental will make the logistics of travel easy and straightforward. Instead of battling heavy traffic and enduring the stress of finding parking, you can rely on a professional driver to guide your journey in D.C. Your guests can also enjoy amenities like climate control, ample legroom, onboard WiFi and TV screens with a DVD player, and plenty of space to store belongings.
D.C. Charter Bus Rules & Regulations
Thankfully, due to a large number of tour group buses traveling in D.C. on any given day, there is a thorough Washington D.C. motorcoach guide and parking regulations that makes traveling via charter bus a simple task.
Motorcoach parking in Washington D.C. is fairly organized, so your bus driver shouldn't have much trouble identifying a place to park after dropping your group off at your museum of choice. Near the National Mall and Smithsonian Museums, your driver may be able to find parking at eight designated spaces on Madison Drive, or 19 spaces on Constitution Avenue.
For more information regarding specific rules and guidelines for parking and bus travel in Washington D.C., you can contact goDCgo, an initiative of the District Department of Transportation (DDOT) that encourages the use of sustainable transportation—like charter buses!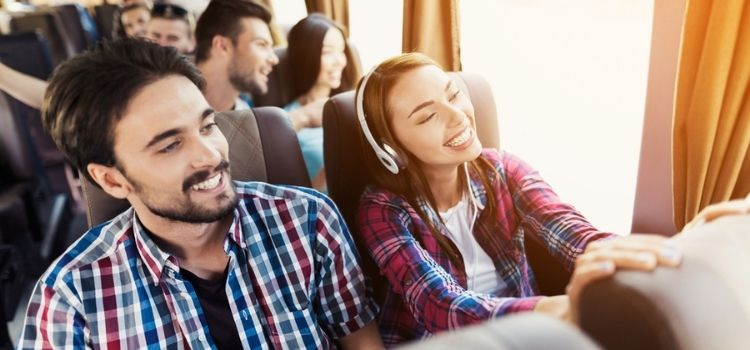 General Museum Visiting Tips & Guidelines
COVID-19 Safety
During the COVID-19 pandemic, Smithsonian museums are open but with modified operating hours. The American History Museum is open Friday through Tuesday 10 a.m. to 5:30 p.m. and closed Wednesdays and Thursdays. The Natural History Museum is open Wednesday through Sunday 10 a.m. to 5:30 p.m. and closed Mondays and Tuesdays.
There are also a variety of safety measures in place. Visitors, staff and volunteers are required to wear face coverings indoors, regardless of vaccination status, and it's recommended that visitors maintain a safe social distance between households or groups. You'll also find hand sanitizing stations around the property.
The National Gallery of Art is open daily from 10 a.m. to 5:00 p.m. All visitors are required to wear a mask while indoors, regardless of vaccination status. But you do not need to wear a mask in the outdoor Sculpture Garden.
Bus Unloading & Loading
There are designated bus pick-up and drop-off locations all around Washington D.C., and the ones you need for visiting The National Mall and Smithsonian Museums are all free. The National Gallery of Art has four zones at 400 block Madison Drive, NW; the Natural History Museum has four zones at 900 block Madison Drive, NW; and the American History Museum has two zones at 1200 block Constitution Ave, NW.
Group Admission & Tours
The beautiful thing about most museums in Washington D.C.? Admission is free! And the Smithsonian museums and National Gallery of Art are no exception to the fact. Each museum also has options for private tours with groups of a certain number.
Security & Personal Belongings
Museums in Washington D.C. have a fairly high level of security, so it's important to note what you can and can not bring with you on your visit. The American History Museum and Natural History Museum will require you to walk through a metal detector or be hand-screened with an electronic wand. Bag inspections will be conducted at each museum by hand or via an X-ray machine.
In general, it's recommended to bring the minimum with you, like a small bag containing a phone and wallet. Anything larger, such as luggage, laptops, and winter coats, can safely remain on your charter bus rental. This way, you don't need to be concerned about checking your belongings at the museum or carrying them around with you during your visit or tour.
National Museum of American History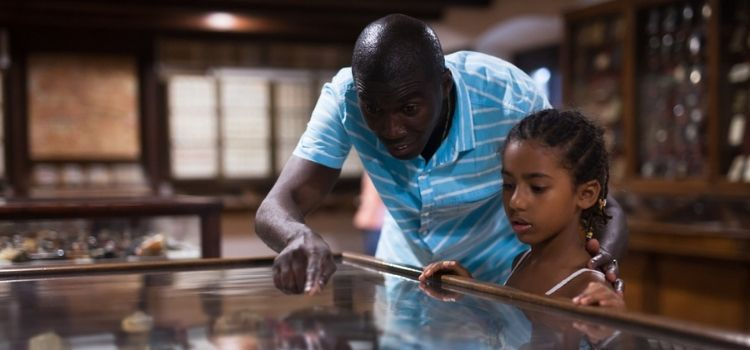 The famed Smithsonian Museum of American History is a defining and eye-opening experience for many visitors. It's collection contains more than three million historical objects, including the original 200-year old flag that inspired Francis Key Scott to write The Star-Spangled Banner; Dorothy's ruby slippers worn by Judy Garland in the 1939 classic The Wizard of Oz; and the Apple Macintosh computer, keyboard and mouse introduced in 1984. However, the museum's real magic is in it's beautifully curated and poignant exhibitions.
Ongoing Exhibition Highlights
The American Presidency: A Glorious Burden, which explores the triumphs, trials and tribulations of the individuals who have held the office of United States' President throughout history. Additionally, The First Ladies, a stunning compliment to The American Presidency, displays more than two dozen gowns worn by First Ladies during iconic moments in American history, and explores the impactful contributions of the people who wore them.
My Computing Device, showcasing the history of how Americans use, own and invent computers and electronic objects.
The Price of Freedom: Americans at War, a poignant exhibit hall detailing the national and global impact of America's military from the French and Indian Wars through WWI and WWII to today.
Group Tour Options
As of writing, the American History Museum is not accepting reservations for private guided tours and other programs. However, you can enjoy a self-guided tour or audio tour on your personal device.
National Museum of Natural History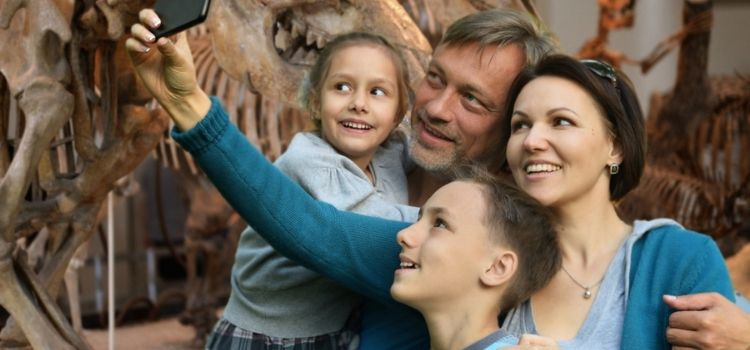 The National Museum of Natural History is home to the world's largest collection of natural history specimens and artifacts, and is one of the world's most visited to boot. The collection features must-see artifacts like real, massive dinosaur skeletons in the Hall of Fossils; the famous, deep blue, 5-pound Hope Diamond (rumored to have belonged to Marie Antionette); and the 12-ton, 14-foot-tall African elephant replica in the museum's rotunda. Explore the museum's detailed permanent exhibitions for an enlightening walk through time:
Ongoing Exhibition Highlights
Bone Hall is a permanent exhibition comparing various skeletons of vertebrate animals including dogs and cats, a massive gray whale, and flying fish.
Eternal Life in Ancient Egypt, an exhibition featuring three human and 16 animal mummies excavated from Egyptian tombs and exploring Egyptian beliefs of the afterlife.
Sant Ocean Hall, a 23,000-square-foot exhibition detailing marine life from the shore to the ocean floor. See more than 600 specimens, like deep-sea bubblegum coral, the jaws of an extinct Megalodon shark, and a preserved 25-foot-long squid.
Group Tour Options
Like the American History Museum, at the time of writing, the Museum of Natural History is also not accepting reservations for private group tours.
National Gallery of Art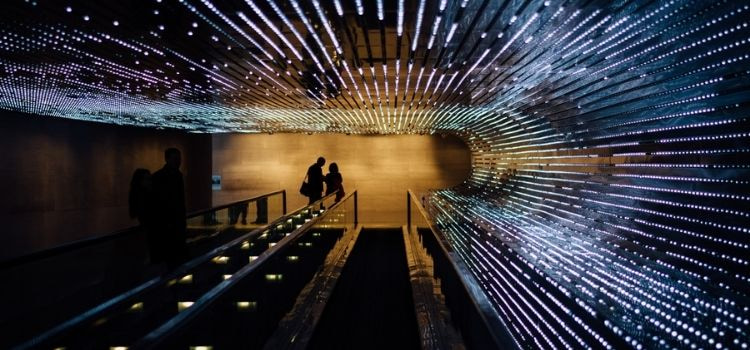 The National Gallery of Art may not be a Smithsonian Institution, but it stands alongside them just as strongly. This museum features a stunning curation of paintings, sculptures, prints, drawings, photographs, decorative art, and "time-based media art"—artworks based on videos, films, audio, and computer software. You can spend an entire day perusing the works on display here, but if you only have a few hours, be sure to prioritize some collection highlights:
Collection Highlights
Leo Villareal's Multiverse (2008), a large and complex light sculpture experienced by visitors as they walk the concourse between the museum's East and West buildings. It features approximately 41,000 LED nodes along a 200-foot-space emitting various patterns.
Claude Monet's The Japanese Footbridge (1899), an iconic classical painting by one of the world's most revered painters. See it in Gallery 85 alongside Monet's Woman with a Parasol – Madame Monet and her Son (1875), and Auguste Renoir's The Dancer (1874).
Georgia O'Keefe's Jack-in-the-Pulpit No. IV (1930), one in a series of 6 paintings of the North American herbaceous flowering plant. The National Gallery of Art is home to 5 of the 6.
Group Tour Options
Visiting the National Gallery of Art as a group is an easy and fun experience. Group tours are cost-free and available for groups of 15 or more. Each tour lasts about one hour, and is primarily focused on an adult audience. You can submit your National Gallery of Art group tour form at least four weeks in advance.
Charter a Bus to Washington D.C.
If you're ready to explore Washington D.C.'s amazing Smithsonian and National museums via charter bus rental, let D.C. Charter Bus Company guide your way. Give us a call at 202-903-0059, and our team will give you a free, no-obligation quote for your next group trip! And if you haven't already, check out our other guides to Washington D.C.'s Smithsonian Museums:
Visiting the National Museum of African Art, Smithsonian Castle, National Museum of Asian Art, and S. Dillon Ripley Center
Do you need to rent a charter bus?
We can help. Call us any time at 202-903-0059 to reserve yours!