Beginner's Guide to Visiting DC
So you're planning your first group trip to Washington DC and don't know where to start? DC Charter Bus Company can help you there. We have plenty of experience transporting groups around DC for a variety of different services, and understand the most popular things to do and see in the city. From the best ways to get around to destinations for your DC bucket list to how to feed all of your travelers, this beginner's guide to visiting DC will help you get your plans started on the right foot.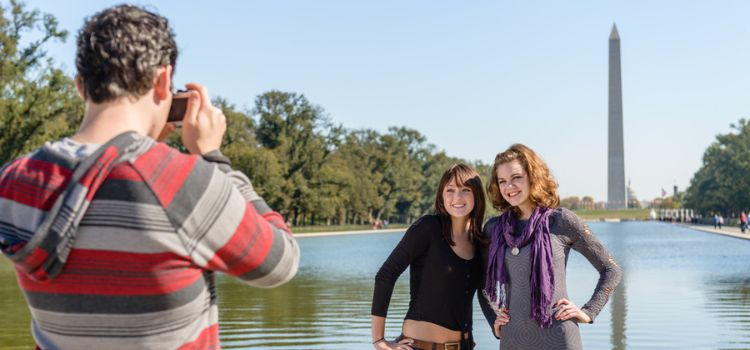 How to Travel Around DC
Local Public Transportation
There are multiple ways to get around Washington DC. As a newbie to the city, you may want to take some to decide which may be best for you and your group. One of the most popular and convenient options is the Washington Metropolitan Area Transit Authority (WMATA) metrorail. This underground subway system can link you to anywhere in the city with relative ease and affordability. Other options include rideshares like Uber and Lyft, electric scooters, bike rentals, and walking. Choosing to walk can be an easy solution if you plan on spending most of your time in one area, such as downtown DC or the National Mall.
DC Charter Bus Rentals
However, most DC travel solutions are best for couples or small groups of no more than 5 people so that you can easily travel together. If you have a group of 6 or more, you may have to split up between modes of transportation and risk becoming lost or behind schedule. With moderately-sized and large groups of DC visitors, having charter bus transportation that lets everyone travel together, comfortably, and on-time may be the best way for you to experience DC for the first time.
Rent a Bus for a Group Visit to Washington DC
A charter bus rental is the best way to see Washington DC safely, conveniently, and comfortably if you're a beginner in the city. Forget any anxiety that may come with navigating public transit as a group or splitting up between multiple rideshares. Instead, DC Charter Bus Company can help you book from a variety of charter bus rental types to best meet your group's needs, and work with you to complete your ideal DC tour.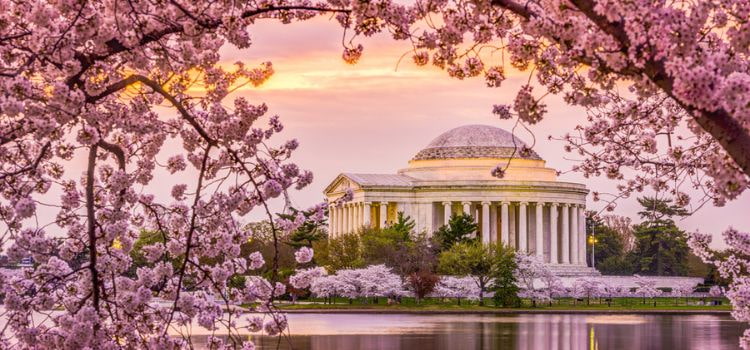 The Best DC Attractions for Beginners
Never been to DC before? Then there's a handful of essential destinations that should be on your bucket list:
The White House
Many visitors come to D.C. with plans to visit and tour The White House. If you're one of them, then make sure you plan ahead early! You'll need to submit White House tour requests through a Member of Congress at least 21 days in advance of your intended visit. Tours are free and self-guided, and take place Tuesday through Saturday mornings at a time assigned to you.
Charter Bus Rental Tip: When you visit The White House, some prohibited items include bags of any kind (including fanny packs and clutch purses), baby strollers, large cameras, food, and tablets. However, you can safely stow away these types of belongings aboard your charter bus rental during your tour, so there's no need for your group to worry about what to do with their backpack, handbag, DSLR camera, or other prohibited item.
National Cherry Blossom Festival
Visiting Washington D.C. for the first time during the National Cherry Blossom Festival is a great way to experience the beauty of the city. Every year in late March/early April, the city celebrates the start of spring with dozens of cherry blossom-themed events. It's definitely worth planning to attend the parade, Blossom Kite Festival, and Petalpalooza.
Charter Bus Rental Tip: Visiting D.C. during the spring when the cherry blossoms bloom is an incredibly popular and busy time to visit, but that's not a problem when you book a bus with Washington D.C. Charter Bus Company. Book a bus rental at least 6 months in advance to ensure availability, and then we'll work with you to make sure your D.C. visit at this time of year is as comfortable and efficient as possible.
National Mall
If you're planning a custom, private bus group tour of DC, then the National Mall is where you'll find most of the essential landmarks and institutions you'll want to visit. Create a route that includes stops at the US Capitol building, Lincoln Memorial, Washington Monument, the National Gallery and Smithsonian Museums—all within a couple of blocks of each other.
Charter Bus Rental Tip: As a first-time visitor with a charter bus rental in DC, it's important to know where around the National Mall your driver can park your bus rental, unload passengers, and pick up your group. Thankfully, the District Department of Transportation has laid out a clear guide for DC tour bus parking, including proper etiquette for idling in loading zones, using street parking, routing through the city, and knowing if you need a trip permit. Following these directions will help you and your driver make sure your DC visit goes smoothly.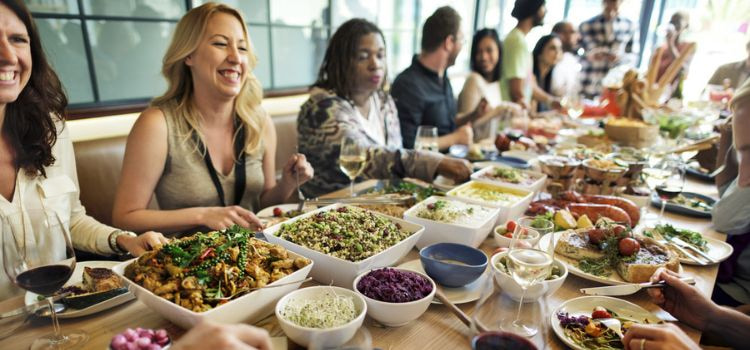 Where to Dine Out with a Group in DC
Part of your Washington DC itinerary will likely include time for meals, which can be a challenging decision to make for a group of people with different tastes and dietary needs. If you have a large group, start planning early and book a private dining area or reserve a large table at a restaurant. Some of the best restaurants for groups in DC are Logan Tavern on 1423 P St., Carmine's over on 425 7th Street NW at E St NW, and King Bird on 2650 Virginia Ave NW.
You can also reserve space at a DC-area brewery, like Denizens Brewing Company in Silver Spring and Port City Brewing Company in Alexandria. Breweries are great for large groups because they typically have a lot of indoor and outdoor space, a variety of food truck options, and group activities like lawn games.
Rent a Bus to Visit Washington DC
Ready to plan your first visit to Washington DC? Then call DC Charter Bus Company at 202-903-0059 and speak with a reservation representative about your ideal trip. Whether you want to lock in a bus rental reservation now for the National Cherry Blossom Festival in the spring, or organize a custom tour of Washington DC highlights, we're here to provide you with the group transportation service you need.
Do you need to rent a charter bus?
We can help. Call us any time at 202-903-0059 to reserve yours!