Tips for Visiting the National Mall with a Charter Bus
With its important history, towering monuments, and impressive museums, the National Mall in Washington DC attracts groups from across the world. It's one of the most-visited places in the country, welcoming more than 20 million visitors every year. And if you're planning to be among the millions to flock to the National Mall, you'll want to make sure you have a gameplan. Visitors touring with a group especially need to have all their ducks in a row before hitting the roads around DC.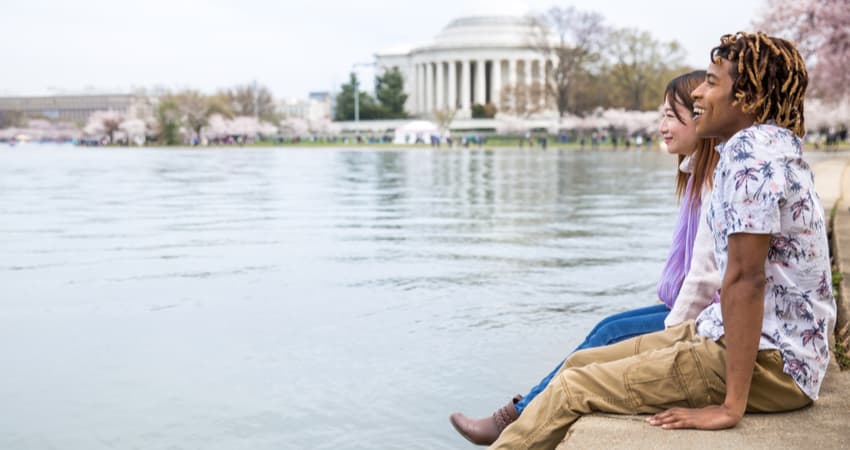 Pre-scheduled group tours are a great way to see the sites at the National Mall but often offer little flexibility. Instead, rent a private charter bus with DC Charter Bus Company for your entire group. You'll have a pro bus driver working on your schedule as you travel around the National Mall. Take your time exploring top sites and shuttle at your own pace from stop to stop. When you call 202-903-0059, a DC Charter Bus Company rep can help you organize the best group transportations service possible.
Sure, you'll have pros handling all your transportation, but it's still important to know charter bus regulations around the National Mall. Check out these travel tips before booking your bus and embarking on your trip:
1.   Know where to budget.
Depending on your group size, the model and cost of your charter bus will vary. A minibus will be best suited for relatively small groups and generally costs less than a full-sized charter bus with 56 seats. Although your group will need to set aside a budget for transportation, a private bus rental can be an affordable option when split among several passengers. You can even take advantage of additional amenities on your charter bus, often for no additional cost. Ask your rental expert about booking a charter bus with WiFi, power outlets, reclining seats, and TVs with DVD players for a more comfortable trip.
A bus rental may get pricey for long-distance trips, even when splitting the cost—but thankfully, groups can find ways to save while in DC. Admission and tours at most sites along the National Mall are free of charge for all visitors. You'll likely need to make reservations if you're with a big group but for the most part, you won't need to allot funds for admission.
2.   Be strategic when planning your itinerary.
The National Mall is about 2 miles long and has more than 20 museums and memorials for groups to explore. Unless you're planning a multi-day trip, you won't have time to see everything. As you create your itinerary, expect to spend less than an hour at memorials and a minimum of two or three hours in each museum. Plan to visit museums first, as they have limited hours and often have timed capacity caps. Reserve memorial visits for later since most are open 24 hours a day and can be even cooler to explore in the evening (most memorials have intricate lighting setups that give visitors a whole new perspective at night). Having a detailed itinerary will also make it easier for your driver to know where to be and when to be there.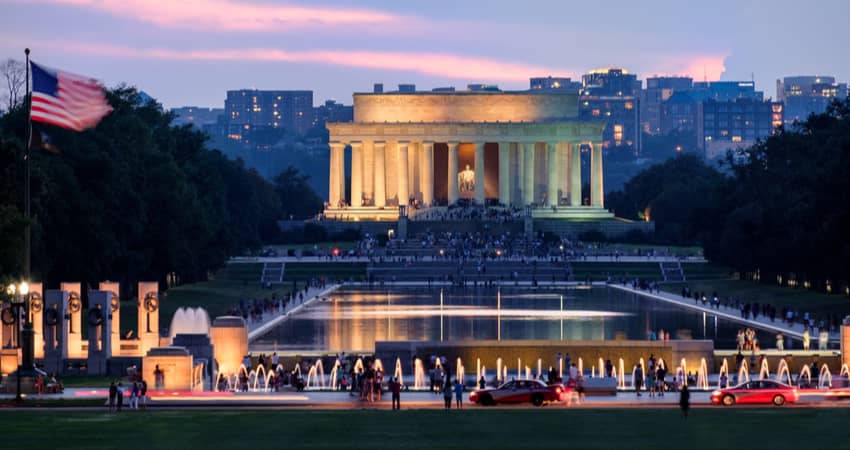 3.   Designate charter bus drop off and pickup areas.
The National Mall is a bustling stretch of DC and loading/unloading zones have strict regulations for buses. You'll want to take a look at the DC Motorcoach Map after building your itinerary to pick which areas your driver should utilize. There are several loading zones on Constitution Avenue just north of the Reflection Pool that can be used to access the memorials on the west end of the mall. Groups visiting the museums first can use loading areas along 7th Street or Madison Drive. Most loading zones have time limits (usually around 20 minutes or less) and there are likely several other buses that will need to load or unload. Make sure your time hopping off or on the bus is safe but time-efficient.
4.   Pick parking spots and know costs.
After your group gets dropped off at the National Mall, where is your bus driver going to go? Motorcoach street parking around the mall can be tight and usually comes with a 2-hour time limit. Your driver will likely need to park a couple of miles away at off-site lots. Make sure to give your bus driver cash for parking or pre-pay for them, if possible.
The closest lot is at Union Station, where parking ranges from $20-$45 a day, depending on the time of day and season. Parking with in-and-out privileges ranges from $60-$75 a day and must be reserved in advance. If Union Station is full, Buzzard Point offers motorcoach parking for $20/3 hours or $50 a day with in-and-out privileges. This lot is only open Monday through Friday. Weekend visitors will alternatively need to park at RFK Stadium for $30 a day during weekdays and $55-$60 a day over the weekend.
Union Station
Address: 30 Massachusetts Ave NE, Washington, DC 20002
Phone: 202-898-1950
Parking reservations: email businfo@uspgllc.com with you preferred reservation date and time
Buzzard Point
Address: 1880 2nd Street SW, Washington, DC 20024
Phone: 202-464-2900
RFK Stadium
Address: 1900E East Capitol St NE, Washington, DC 20002
Phone: 202-608-1113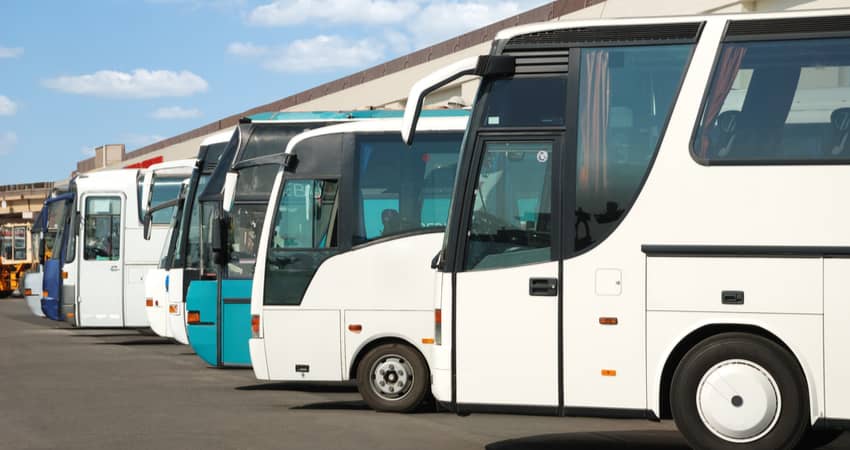 5.   Don't forget the additional details.
Planning your National Mall trip by charter bus doesn't just stop at the parking and itinerary. If your group is staying overnight, you'll need to consider lodging options for your driver. Keep in mind that motorcoach drivers have to rest for 8 hours after every 10 hours of driving. The easiest option is to book your driver a room in your group block at your hotel. Staying in the same hotel will make it quick and simple to get your day started. Be sure to ask your hotel concierge about possible motorcoach driver discounts.
Are you only visiting for a day? Local groups traveling for afternoon school field trips or community organization outings can count on DC Charter Bus Company for safe day transportation.
Visit the National Mall on Your Own Time
Rather than worrying about parking, everyone in your group can focus on getting photo ops at the Lincoln Memorial and learning at the National Museum of Natural History. Take your time exploring the mall and US capital city, while the pros handle driving. Call 202-903-0059 at any time to chat with a DC Charter Bus Company rental expert and to get a personalized travel quote.
Do you need to rent a charter bus?
We can help. Call us any time at 202-903-0059 to reserve yours!