Guide to D.C. Airports
Washington, D.C. has three major airports, which means if your group is planning to fly, you're going to have to decide which one you want to land at. You'll also need to figure out how to get from the airport to your lodgings in the city. Although the Reagan airport lies only a few minutes from the center of D.C., the Dulles and Baltimore airports lie farther away, making ground transportation especially critical.
DC Charter Bus Company can provide shuttles from any of Washington, D.C.'s airports. We offer comfortable charter buses and minibuses with plush seats and climate control, and you can request other amenities like reclining seats, WiFi, and flat-screen TVs if you have a longer drive. Give us a call at 202-903-0059 to reserve your transportation, and keep reading to learn more about all of the airports around D.C.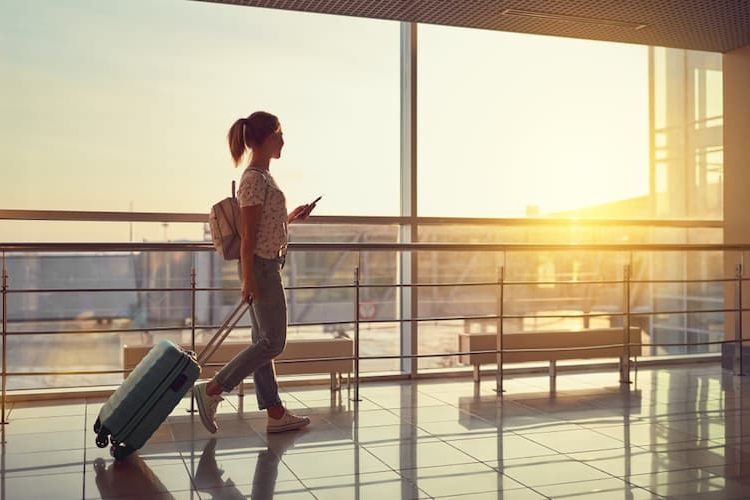 Ronald Reagan Washington National Airport (DCA)
Located just across the Potomac River from D.C. and only 5-10 minutes from the National Mall, Ronald Reagan Washington National Airport is the closest airport to central D.C., which makes it popular among many senators and representatives. It doesn't offer as many destinations as Dulles, but it is served by popular airlines like American, United, Delta, and Southwest.
Reagan is also the only airport directly connected to the D.C. Metro, though DC Charter Bus Company can still provide a bus if your group isn't comfortable navigating the Metro as soon as you land. Charter buses can pick up passengers on the Ticketing/Upper Level outside Terminals B and C.
Accessibility
All of the terminals at the Reagan airport are wheelchair-accessible, and private, unisex, accessible bathrooms are available in addition to the accessible stalls located in public restrooms. The airport also has rest areas for service animals.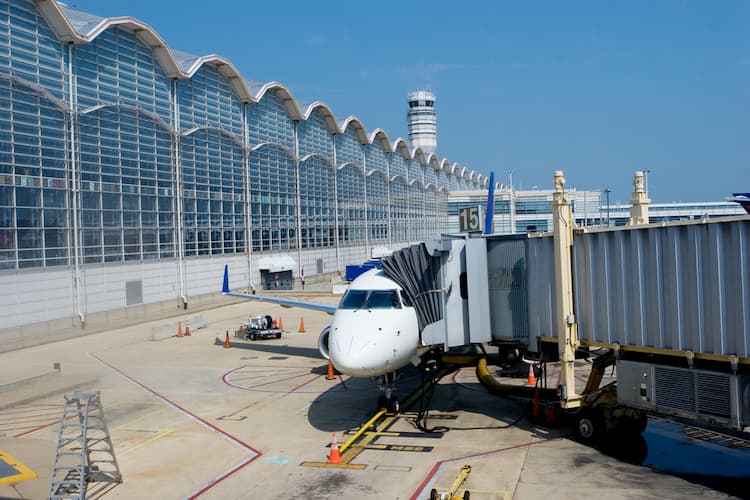 What to Do
Fittingly for an airport that's popular with government employees, the Reagan airport has multiple meeting rooms. You can book the historic lobby or one of the two 40-person conference rooms for your next convention or happy hour. The two conference rooms can also be combined to form one large room for important presentations. And whether you're hosting a meeting or not, you can take advantage of the airport's free WiFi.
What to Eat
The Reagan airport used to have a reputation for beautiful views but less beautiful food. That's changed dramatically in the last few years. Good Stuff Eatery, owned by Top Chef alum Spike Mendelsohn, serves elevated burgers, fries, and milkshakes, and Ben's Chili Bowl offers the famous "half-smoke." (If you're not from D.C., this is a big, spicy sausage served with onions and chili sauce.)
Looking for an alternative to fast food? Try Page, a Southern-style restaurant created by another Top Chef alum, Carla Hall. You can indulge in cured ham and biscuits, she-crab soup, oysters, and pimento cheese dip while you wait for your flight.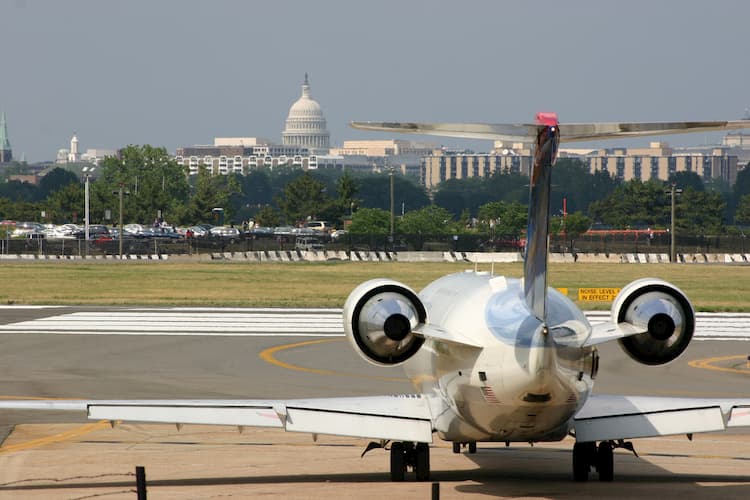 Washington Dulles International Airport (IAD)
If you're flying internationally, there's a good chance you'll fly into Dulles instead of Reagan. Located in Virginia, about 30 to 35 minutes from the National Mall, the Dulles airport hosts 40 airlines serving 140 destinations. This is the airport you'll choose if you need to fly Air China, Lufthansa, or another international airline.
Because Dulles offers so many airlines and flights, it's usually busy, and your group will want to get there early. Dulles doesn't have a Metro stop, so you'll need to rely on rideshares, rental cars, or a charter bus to get there. If you opt for a charter bus, your driver can drop you off on the Departures level or pick you up on the Arrivals level outside the main terminal.
Accessibility
Washington Dulles welcomes service animals, and the terminals contain service animal rest areas. The airport also provides elevators and wheelchair-accessible terminals as well as accessible stalls in public restrooms and private, unisex, accessible restrooms.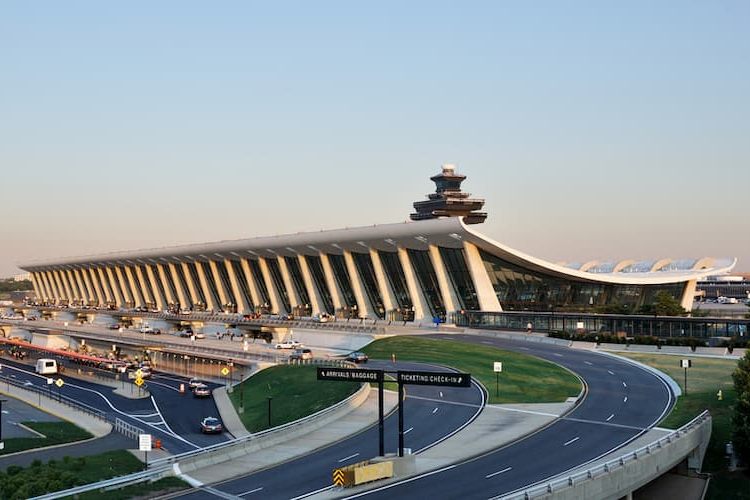 What to Do
The Dulles airport offers free WiFi and a variety of stores if you're sick of streaming and want to walk around. For higher-end goods, check out Concourse B, home to shops like L'Occitane and Polo Ralph Lauren. When you're done shopping, you can visit the Be Relax Spa for a pedicure, facial, or massage.
If you have a lot of time between flights and are willing to leave the airport, you can visit the nearby Steven F. Udvar-Hazy Center, a companion museum to the National Air and Space Museum. Here, you'll find two hangars filled with artifacts like the Space Shuttle Discovery and an Air France Concorde. And like all Smithsonian museums, the Udvar-Hazy Center is free to enter.
What to Eat
The Dulles airport has food options to accommodate a variety of groups' taste buds. If you want straightforward staples like burgers, steaks, and crab cakes paired with an array of local craft beers, try the American Tap Room.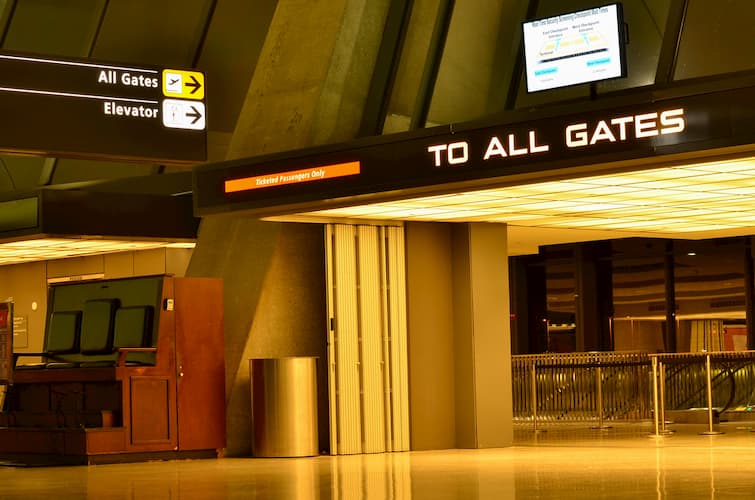 For more international options, take your group to Bistro Atelier, which features French favorites like sweet and savory crepes, brie burgers, and croque monsieurs. You'll also find local fast-food joints like &pizza if you need to grab food quickly on the way to your gate.
Baltimore/Washington International Thurgood Marshall Airport (BWI)
Though this airport is closer to Baltimore than to D.C. proper, many groups use it to get to D.C. because it can be much cheaper to fly into than Reagan or Dulles. BWI serves more than 90 destinations and offers train service into Washington. If you're not up for navigating the MARC with a large group of people, though, you can have your charter bus pick you up at the airport.
Shuttles can pick up passengers outside the International Arrivals terminal. The drive to D.C. will take about an hour, so you may want to request reclining seats, TVs, or WiFi so your group can relax during the drive.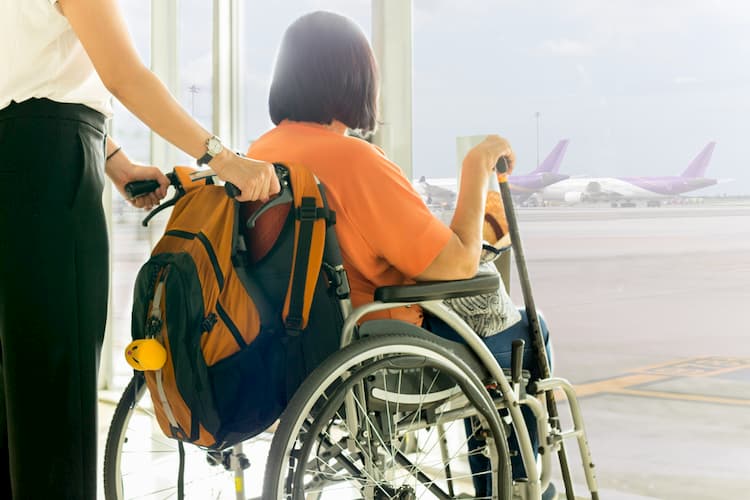 Accessibility
BWI has wheelchair-accessible terminals, elevators where needed, and accessible stalls in the restrooms. You'll also find private, unisex, accessible bathrooms and rest areas for service animals. One of BWI's more notable accessible features is their partnership with Aira, a smartphone service for blind or visually impaired people that can help them navigate the airport.
What to Do
The Baltimore-Washington airport has many of the features you'd expect to find in an airport, like free WiFi and stores you can browse. But it also has a remarkable dedication to fitness. Inside, you'll find a fitness center, Roam Fitness, with cardio equipment, free weights, and medicine balls. The fitness center also includes machines and tools that can be used by visitors with disabilities.
If you just want to walk or run, follow the Cardio Trail, which winds through all of the terminals, but will ensure you don't get in the way of people trying to catch their flights. Groups who have time to go outside can follow the Hiker-Biker Trail around the airport campus. Free for a few hours during a layover? Keep walking outside until you reach the Historic Benson Hammond House, a Victorian home on the corner of the airport's grounds that dates back to 1824.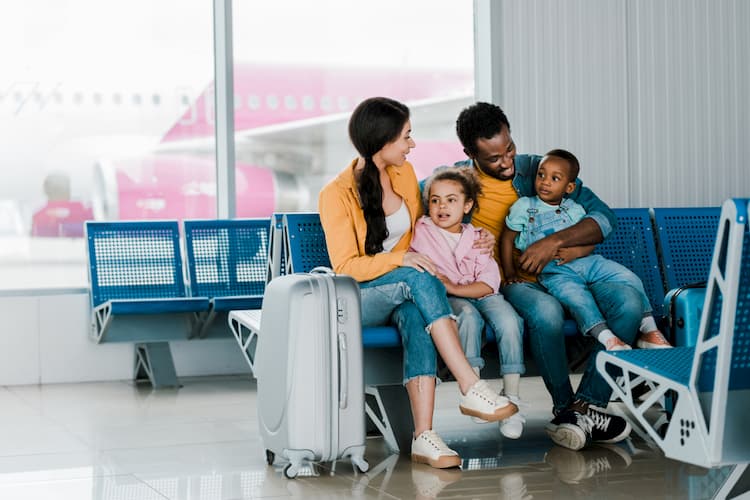 What to Eat
Restaurants within the Baltimore airport offer "street pricing," which means they don't charge more just because they're in the airport. If you decide to eat at BWI, you'll find more than 50 restaurants, including Obrycki's Restaurant & Bar, a seafood-focused joint that serves fresh crab cakes, fish and chips, shrimp and grits, and fish tacos.
Not a seafood person? Flying Dog Tap House offers beer brewed in nearby Frederick, Maryland and American entrees like sliders, hot dogs, and mac and cheese. If you're craving Mexican, La Carnita has huevos rancheros, egg tortas, chips and salsa, and, of course, a wide array of tacos.
Plan Your Transportation from D.C. Airports
Once you figure out which D.C.-area airport works best for your group, call DC Charter Bus Company to arrange your ground transportation. We'll pick your group up outside the terminal so you don't have to worry about scrambling to find rideshares or taxis after a long flight, and your driver can take you straight to your hotel in D.C. while you listen to music or watch a movie. Contact us at 202-903-0059 to start organizing your next group outing to the nation's capital.
Do you need to rent a charter bus?
We can help. Call us any time at 202-903-0059 to reserve yours!