A Group Guide to Visiting the U.S. Capitol
The U.S. Capitol is a wonderfully historic and educational destination to visit. It's one of many popular destinations around the National Mall in Washington, D.C. and should definitely be on your tour itinerary of the city.
Get your group together to tour the U.S. Capitol and other National Mall sites. D.C. Charter Bus Company can provide safe, sanitized, and convenient group transportation for travelers planning to tour the Capitol in the future. A private charter bus is a safer and more efficient alternative to using pre-scheduled tour companies, public transportation, or even several cars. Instead of hurrying to catch a train or rushing a tour to stick to someone else's schedule, ride on your own time with a pro driver and comfortable amenities on your private charter bus. Give the D.C. Charter Bus Company team a call at 202-903-0059 to reserve a minibus or charter bus for a future group trip!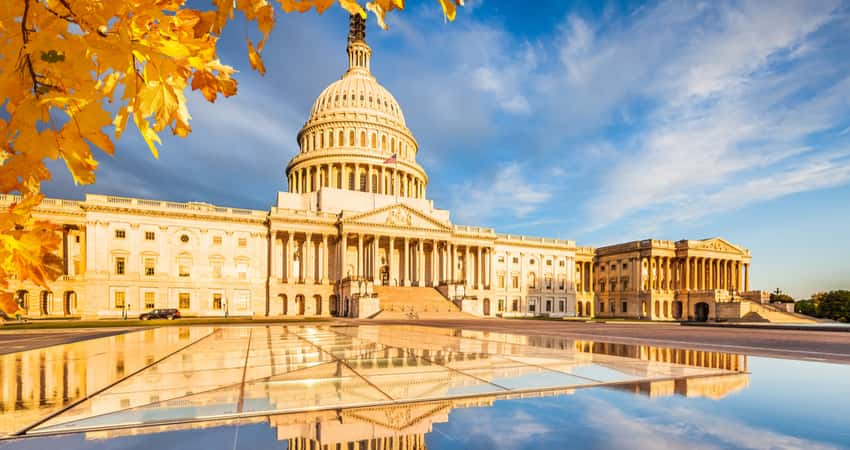 About the U.S. Capitol
Located on the easternmost end of the National Mall, the U.S. Capitol overlooks the long, green stretch of museum-lined park. The beautiful domed Capitol building has served as an important meeting place for the U.S. Senate and the House of Representatives since 1800. Construction for the current Capitol building began in 1793, and it has gone through several changes over the years. These include major expansions, design changes, spatial repurposing, and fixing extensive damages after the War of 1812.
Today, the 5-floor building also includes the 580,000-square-foot United States Capitol Visitor Center that features exhibits on American art, history, and culture. Around 4 million people visit annually to watch the Senate or House in session (with prior request), take photos of the beautiful architecture and art, and view the National Mall and Washington Monument from the Capitol's steps.
How to Get to the U.S. Capitol
Washington, D.C. is a busy city with some of the worst traffic in the U.S. Traffic tends to get gridlocked around busy areas like the National Mall, which can make parking a hassle. If you're planning to visit the U.S. Capitol with a group, you'll want to think through your transportation options.
Small groups can effectively utilize a few different D.C. transport options to get to the Capitol building. If you have plenty of time to spare and you're working on a budget, using the M Metro public transportation system is one of the best options. There are 3 rail stations (Federal Center, SW, Capitol South, and Union Station) within a short walking distance of the U.S. Capitol. At around $2.00 per trip, taking the rail is an affordable option but isn't convenient for large tour groups.
Rather than taking public transport, bigger groups may want to rent a private charter bus. Traveling with D.C. Charter Bus Company offers larger groups a better transportation option customized to their passenger count and schedule. You won't need to corral everyone onto a train before the doors close or worry about missing your ride while fumbling with Metrorail ticket machines. A minibus or charter bus rental will give tour groups, school groups, and community organizations an easier way to travel. Everyone can charge up their phones and cameras with onboard power outlets or watch a movie on the bus's TVs to quickly pass the time in D.C. traffic. Tired after a long day of walking around visitor centers, museums, and monuments? Travelers can stretch out in reclining seats to rest and catch a quick nap.
The U.S. Capitol does have strict guidelines for tour buses, charter buses, and oversized vehicles in the area. If you're traveling by charter bus, be sure to review these guidelines on where your driver can enter and exit the grounds, as well as where groups are authorized to load and unload. Once your group is dropped off, your driver can park at nearby Union Station. You'll want to inquire about charter bus parking at Union Station ahead of time to ensure you get the best parking rate.
Tour Options and Admission Costs
Admission to the Capitol Visitor Center is free for all guests.  The U.S. Capitol Visitor Center offers free 45-minute group tours Monday through Saturday from 8:30 A.M to 4:30 P.M. Reservations for tours are recommended but not required. It is closed on Sundays, Thanksgiving Day, Christmas Day, New Year's Day, and Inauguration Day. Same-day passes are available at the lower-level Information Desk but can be limited during busy times of the year. Groups of 15 or fewer should make reservations online here, while groups of 15 or more should make reservations through this link.
Groups who want to visit the Senate and House Galleries during a session will need to request a pass from the offices of their senator or state representative. International groups can request passes at the Appointment Desk on the top floor of the Capitol Visitor Center.
What You'll See On Your Capitol Tour
Each guided tour will take you through the Crypt, the Rotunda, and the National Statuary Hall.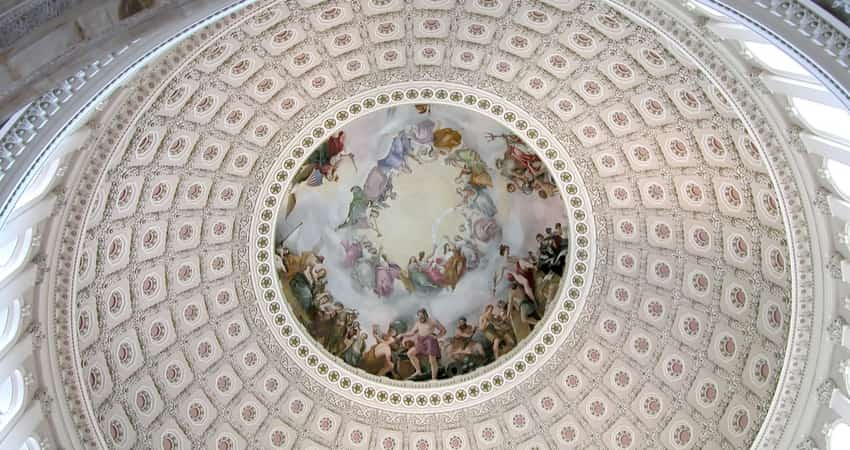 The Rotunda
Sitting at the heart of the Capitol, the Rotunda is home to the building's iconic dome. The Rotunda also holds several historic murals, paintings, relief sculptures, statues, and busts. You'll see famous pieces like the Declaration of Independence by John Trumbull and a marble statue of Abraham Lincoln by Vinnie Ream, the first female artist to receive a government commission.
The Crypt
Contrary to popular belief, the Capitol Crypt doesn't actually hold anything macabre. The crypt sits below the Rotunda, supporting upper floors with 40 beautiful Doric columns. It is also home to 13 statues that represent important figures from the original 13 colonies, including Samuel Adams and John Caldwell Calhoun.
The National Statuary Hall
This Greek amphitheater-style hall is located just south of the Rotunda and houses a collection of 35 statues surrounded by towering Corinthian columns. Most of the statues located throughout the U.S. Capitol once lived in National Statuary Hall, but many have been redistributed across the building and its grounds.
Nearby Attractions to Visit
Since guided tours are only about 45 minutes, groups planning to spend quite some time in the area will need other locations to fill up their itinerary. Your group can stroll between the stops on your schedule and take in the gorgeous D.C. landscape or opt to have your charter bus driver shuttle everyone between stops.
Here are just a few of the closest attractions to the U.S. Capitol for your group to also check out:
U.S. Botanic Garden
Address: 100 Maryland Ave SW, Washington, DC 20001
Phone: (202) 225-8333
The U.S Botanic Garden is located on the U.S. Capitol grounds and is a wonderful spot to visit after exploring the inside of the Capitol building. Groups can tour gardens filled with thousands of plants and flowers from around the world. Popular garden exhibits include the Orchid Room, Rose Garden, and Children's Garden for those traveling with kids.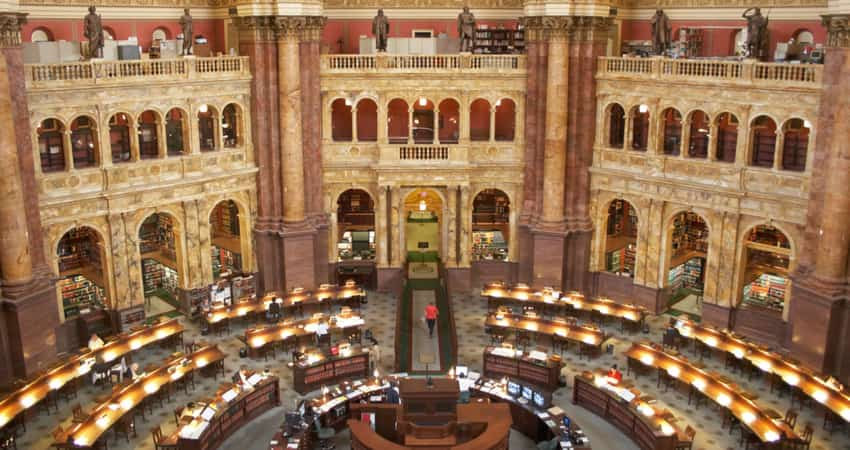 Library of Congress
Address: 101 Independence Ave SE, Washington, DC 20540
Phone: (202) 707-5000
The Library of Congress is located just east of the U.S. Capitol. It can actually be accessed via an underground tunnel system from the Capitol building to the Jefferson Building. Discover the different reading rooms, marvel at the beautiful architecture and art, snap photos of magnificent stained-glass installations, and browse extensive collections of books.
U.S. Supreme Court
Address: 1 First St NE, Washington, DC 20543
Phone: (202) 479-3000
The Supreme Court of the United States is open to the public Monday through Friday from 9:00 A.M. to 4:30 P.M. Visitor talks and programs are available in the courtroom on non-hearing days, and some oral arguments are open to the public on a first-come-first-served basis.
Book a D.C. Charter Bus to the U.S. Capitol Today
When you're ready to reserve a charter bus for your future trip around Washington, D.C. Charter Bus Company will make sure everything is taken care of. One of our rental experts will take down all of your travel information and provide you with an all-inclusive charter bus price. Call 202-903-0059 to learn more about how D.C. Charter Bus Company can simplify your next group trip!
Do you need to rent a charter bus?
We can help. Call us any time at 202-903-0059 to reserve yours!