A Group Guide to Visiting the White House
Many groups want to tour the President's home while they're in Washington, D.C., but the process of visiting the White House can be a bit complicated. You'll need to start planning well in advance to score tickets, find parking, and ensure you follow all guidelines and regulations.
D.C. Charter Bus Company would like to help. We're experts on the challenging process of group transportation in D.C., and we've compiled this guide to help you have an awesome White House tour with your group. Give us a call at 202-903-0059 and browse the information below to prepare for your visit to D.C.'s most famous home.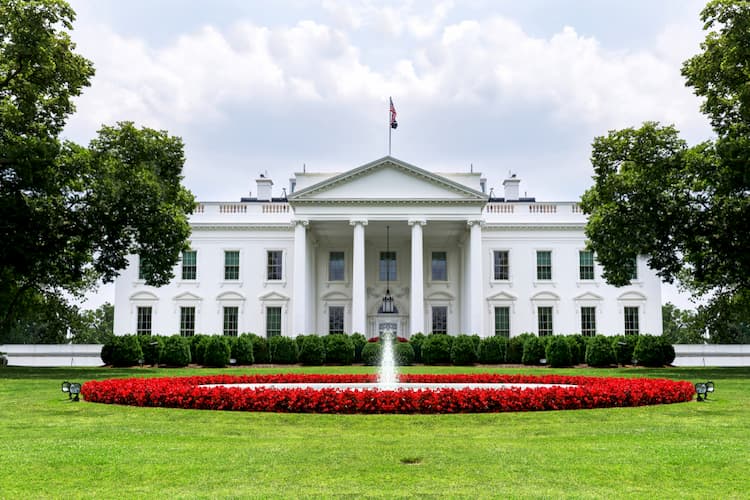 How to Schedule a White House Tour
To request a White House tour, you'll need to contact one of your Congress members. You can visit congress.gov to find contact information for your senator or representative. Tours must be booked between three weeks and three months in advance, and they're available on a first-come, first-served basis.
If you don't live in the U.S., you'll need to contact your embassy in Washington, D.C. to request a White House tour. Make sure you start this process the full three months in advance, since working with embassies can be time-consuming.
The White House hosts visits on Fridays and Saturdays from 8-11 a.m. If your representative or embassy is able to get you a tour, you'll be assigned a specific reservation time and you'll get an RSVP link from the White House. Make sure you include all guests' names when you RSVP. You'll also receive a White House Boarding Pass before your tour that includes health and safety information.
Transportation to the White House
The White House doesn't offer parking, and there's very limited street parking nearby. Because of this, the White House recommends using public transportation. The Federal Triangle, Metro Center, and McPherson Square Metro stations all lie close to the White House.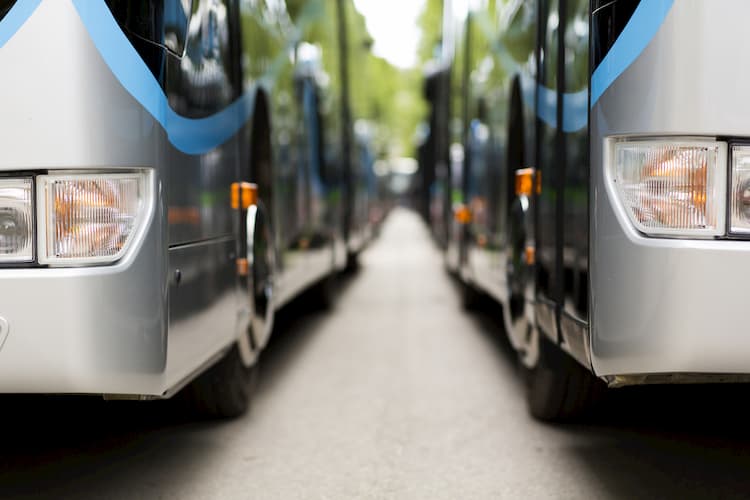 If you opt for public transit, your charter bus can drop you off at a Metro station outside the city and then return to your hotel. The Greenbelt Metro station outside the city even offers oversize parking spaces for motorcoaches for just $8.95 a day.
Public transit isn't for everyone, though. Some groups find the Metro map intimidating, and young children or people with disabilities may have a hard time getting around the stations. Never fear. Your charter bus can drop you off close to the White House and then park nearby.
Street Parking and Unloading Options
If you need your charter bus to carry your group throughout D.C., make sure you check the online motorcoach map and print the PDF version so you know which roads your bus can safely use. Your motorcoach may also need to request a tour bus permit from the D.C. DMV.
You can find street parking for buses in one location near the White House: the 1400 block along New York Avenue NW, near where New York Avenue NW and 14th Street intersect. This location is only one block east of the White House and has 5 oversize parking spaces for $6.90 an hour. However, there is a 1-hour limit from 9:30 a.m.-7 p.m. Monday through Friday and from 7 a.m.-midnight Saturday and Sunday. Therefore, you'll probably only want to use this area for short stops to take pictures or to unload.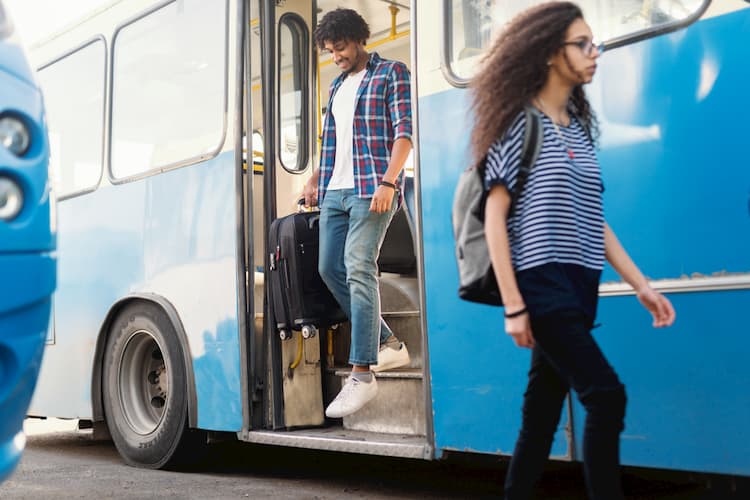 Long-Term Parking
If your bus driver needs a place to wait while your group takes a full White House tour, they can try the Union Station Bus Terminal. Located about 10-15 minutes from The White House, the Bus Terminal lies on the Main Level of the Union Station Parking Garage and can be accessed from the Mezzanine Level of the station.
Union Station offers 32 bus spaces. You can make a reservation to guarantee your space or just show up and hope to get a spot on a first-come, first-served basis, Reservations cost $60 during off-peak season (July-February) and $75 during peak season (March-June) and include in and out privileges. Reserve bus parking by sending an email with your requested dates and times to businfo@uspgllc.com.
Getting Into the White House
The White House has strict identification and security policies that your group will need to follow. When you arrive for your tour, you must present a valid, government-issued photo ID. For U.S. citizens, this means a driver's license, passport, or military ID. Non-U.S. citizens may present a passport, diplomatic ID, or permanent resident card.
You'll also have to go through a security check. The White House has a long list of prohibited items that you can find here. Many of the items are expected (you didn't think you could bring weapons, did you?), but some of the forbidden items are surprising. For example, you can't bring bags of any kind, food, drinks, strollers, or tablets. Luckily, you can leave many of your belongings in the overhead storage space on your charter bus.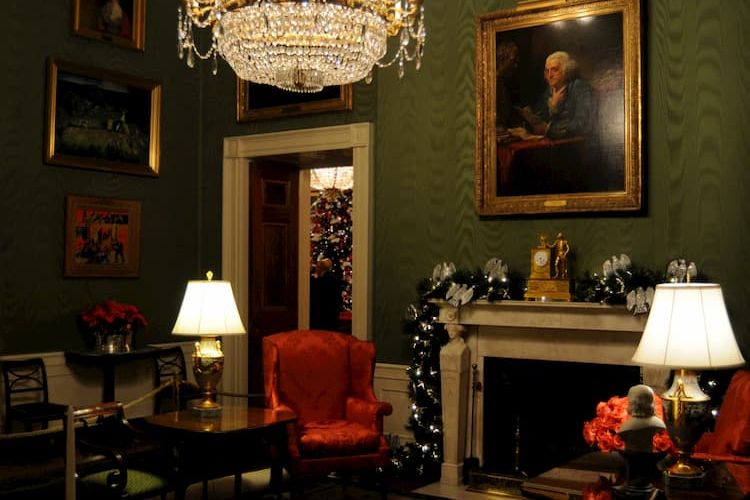 You don't have to walk in completely empty-handed, though. Here's a list of items that you are allowed to bring inside:
Baby carriers (that go against the body)
Cell phones
Compact cameras with lenses less than 3 inches
Wallets
Items needed for medical purposes (mobility aids, medications)
Accessibility
The White House Tour is fully wheelchair-accessible, and all mobility aids are allowed. If you need to borrow a wheelchair for the duration of the tour, you can request one from a Secret Service officer when you check in. (Don't be intimidated—it's part of their job!) Guide animals are also permitted on the tour. If you need an ASL interpreter, please let your representative's office know when you submit your tour request.
Helpful Tips
Because the White House has so many restrictions, it's a good idea to seek out as much information as possible before your tour. Here are a few tips your group may find helpful:
The tour entrance line is outside, so dress for the D.C. weather.
The White House doesn't have public restrooms, but there are restrooms at the White House Visitors Center (1450 Pennsylvania Avenue NW, Washington, D.C. 20230).
Silence your phone and don't take calls during the tour.
Flash photography and video recording are prohibited.
If you have questions before your trip, call the Visitors Office information line at 202-456-7041.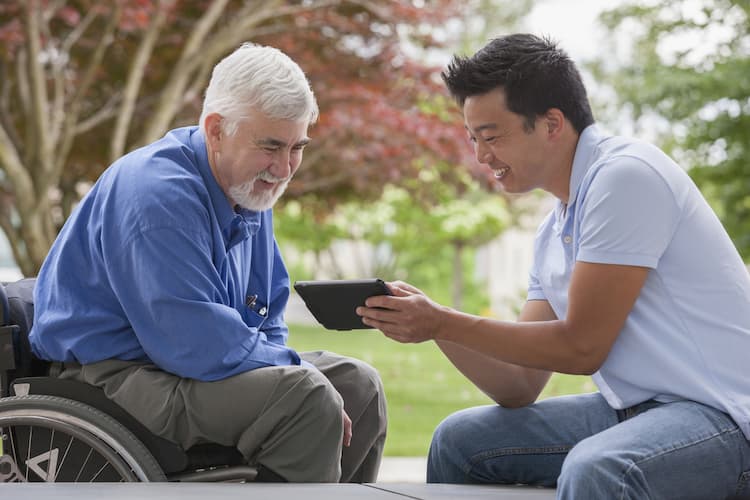 What You'll See
All White House tours are self-guided, though you can stop and ask questions of the Secret Service agents stationed in each room. The average tour lasts about 45 minutes, though some groups finish in 30 minutes and some take as long as one hour.
The White House tour will take you through the State Dining Room, the China Room, and the rooms in the East Wing. You'll also have the chance to look out the windows at the White House Rose Garden.
The Rooms
After you pass through security, your tour will begin in the East Wing, in a corridor lined with pictures of former Presidents, First Families, and First Pets. You'll get to look into the Library, the Map Room, the Vermeil Room (aka the Gold Room), and the China Room, where you'll see china collected by presidents from George Washington to Bill Clinton.
These rooms are mostly used by the President and First Lady for private meetings. Unfortunately, you can't step inside, but you can take pictures without a flash. You will then visit the state floor, where you'll see the East Room, the largest room in the entire White House. Because it's so big, the East Room has been used for cocktail receptions, award ceremonies, and even weddings.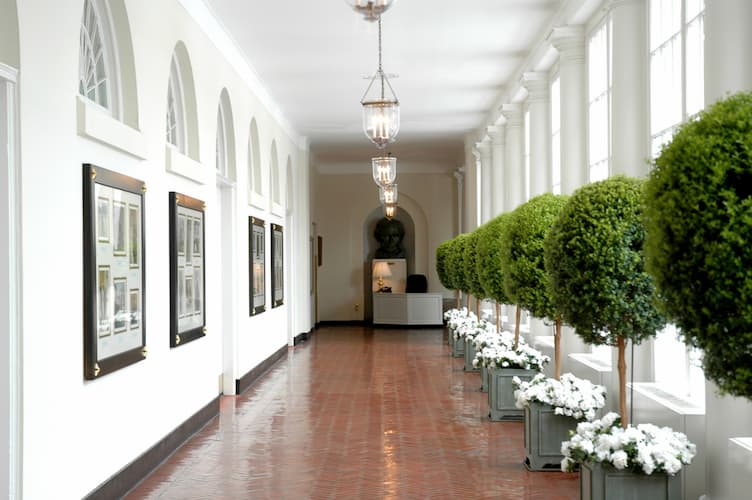 The next stop for your tour group is a series of three small parlors named after their colors. These parlors are often used for cocktail hour before the President, First Lady, and visiting diplomats enter the State Dining Room. You'll start your tour of the parlors in The Green Room, which once hosted a meeting between Eleanor Roosevelt and Amelia Earhart.
The Blue Room stands out because it's one of three oval-shaped rooms in the White House. It's often used for small dinners and receiving guests, and it's the location of the White House Christmas tree during the holidays. The nearby Red Room has served as a parlor, a music room, and a site for small dinner parties, and it really does have bright red walls!
Finally, you'll see the State Dining Room. Reserved for formal occasions and state dinners, this space has an elaborate chandelier and can hold either one long table or many small, circular tables. It's hosted up to 140 people for celebrations in the past, and it underwent a complete renovation during the Obama administration. After you explore this elegant room decorated in shades of white, blue, and ecru, your White House tour will be over.
Alternative Ways to See the White House
If you don't manage to secure tickets to the White House from your congressional representative, there are a few alternate ways to catch glimpses of it. You won't be able to go inside, but you'll get a good view of the exterior.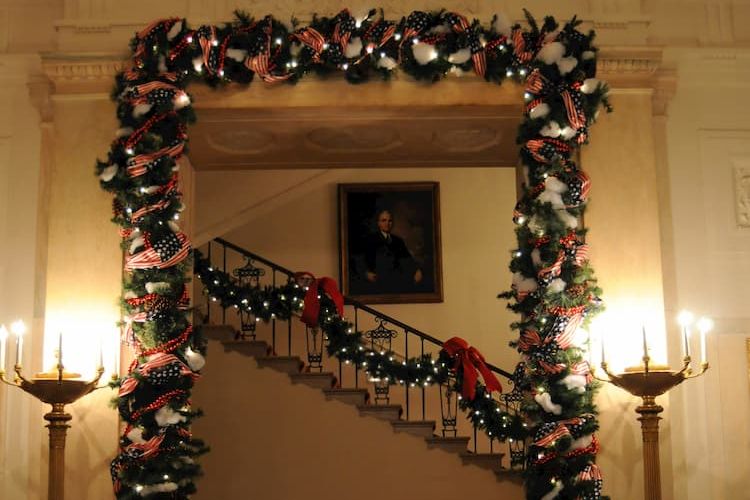 Garden Tours
Your first option is the fall or spring garden tour. Keep checking whitehouse.gov in early April and October to see when these tours will take place—they're usually announced a week or two before they begin and run for two consecutive days, weather permitting.
When tickets go on sale, they'll be distributed by the National Park Service at the Ellipse Visitor Pavilion on 15th and E streets NW. You can get tickets on each tour day starting at 9 a.m., and you'll need a ticket for everyone in your group. That means you'll want to have your charter bus drop you off early on the day you're trying to get tickets.
Seeing the Building from the Outside
Since getting tickets to the garden can be almost as tricky as getting tickets from your representative, your group may just need to gaze at the White House from the outside. If that's the case, have your bus drop you off at Pennsylvania Avenue NW at Lafayette Square. You'll be able to see one side of the White House and the surrounding South Lawn.
Just keep in mind that a new fence is under construction which will be 13 feet instead of 6, and this may make it harder to see. If you want an up-close view, try getting White House or garden tour tickets before you resort to getting dropped off outside.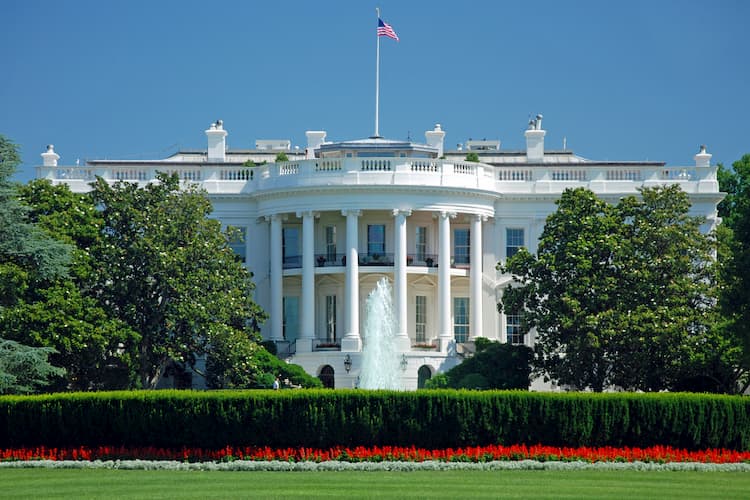 Plan a Visit to the White House on Your Next Group Trip
Although it's more complicated to visit the White House than the Lincoln Memorial or one of the Smithsonian museums, a White House tour can add an unforgettable touch to your next trip to D.C. Whether you manage to score an internal tour or you just want to take pictures of the building, D.C. Charter Bus Company would love to help with your visit. Just give us a call at 202-903-0059 and we'll provide safe, reliable transportation to the White House and throughout Washington, D.C.
Do you need to rent a charter bus?
We can help. Call us any time at 202-903-0059 to reserve yours!