A Group Guide to Visiting the National Gallery of Art
With free admission and work by artists like Leonardo da Vinci and Dorothea Lange, it's no wonder that the National Gallery of Art is a popular museum for tour groups to visit in D.C. But since the gallery lies on the National Mall, you'll need to do a bit of advance planning if you're bringing a large group there.
D.C. Charter Bus Company can help. We frequently provide transportation to museums around the National Mall, including the National Gallery of Art. Just give us a call at 202-903-0059 to book your bus rental, and keep reading to learn what you should consider before your visit.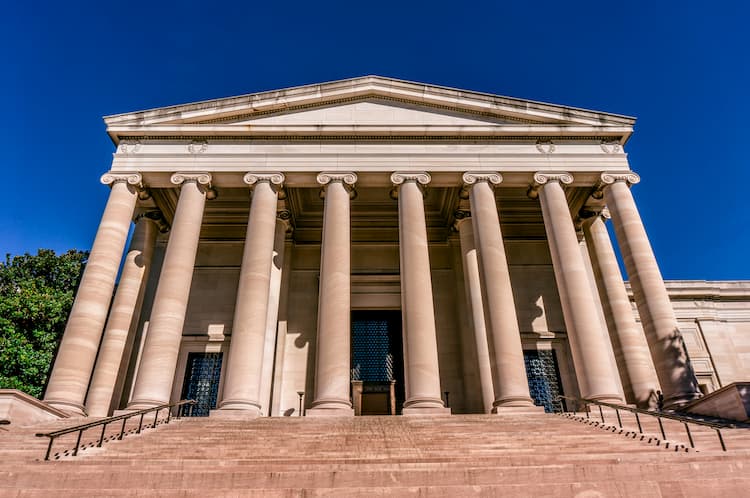 A Note on Safety
At the time of this writing, the museum is closed to the public indefinitely because of the COVID-19 pandemic. When it reopens, timed tickets, social distancing, and masks may be required. You may also need to split larger groups into small pods. Be sure to check out the museum's latest health and safety guidelines before you go with a group.
About the National Gallery of Art
The National Gallery consists of two buildings, the West and the East, and an outdoor sculpture garden. Between them, the two buildings and the garden hold more than 150,000 paintings, prints, drawings, photographs, sculptures, and pieces of decorative art. Check out works by Edgar Degas, Horace Pippin, Judith Leyster, and Vincent van Gogh inside the building before heading outside to see Mosaic by Marc Chagall or Spider by Louise Bourgeois.
If your group wants to take a self-guided tour, you can do so for free. Just grab one of the museum's audio, mobile, or printed guides that come in English, Spanish, French, Chinese, and Japanese. You can also find a video guide in American Sign Language. Once you have your guide, you're ready to see works by Norman Lewis, Mary Cassatt, and Magdalena Abakanowicz.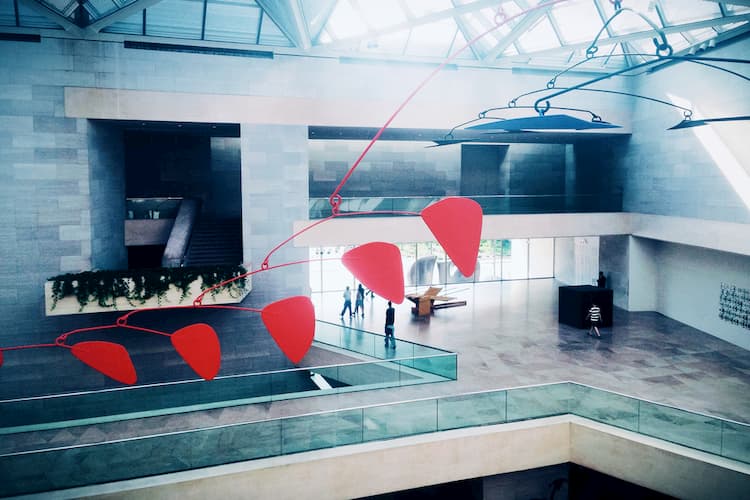 Shopping and Dining
If your group needs a break from browsing the art, the National Gallery has 4 gift shops that sell everything from art books and painting reproductions to jewelry, bags, and clothing. The museum also has 5 dining locations: Pavilion Cafe, Terrace Cafe, Garden Cafe, Cascade Cafe, and Espresso & Gelato Bar.
The four cafes serve light meals and snacks like sandwiches, pastries, and coffee. The Espresso & Gelato Bar serves—well, you can probably guess. If your group wants to bring your own food, you can have a picnic in the Sculpture Garden. Just note that you won't be able to bring outside food into the East or West buildings.
Parking and Loading
Like most buildings on the National Mall, the National Gallery of Art doesn't have its own parking lot. That means your charter bus will need to drop you off and then park on surrounding streets or in paid garages or lots.
Check out this motorcoach map to see where your charter bus can load or unload, and keep in mind that most loading zones have 20-minute time limits. Once your group climbs off the bus, your driver can street park (if you'll be in the museum for less than 2 hours) or head to one of the city's bus lots, like the Union Station Bus Terminal, Buzzard's Point, or RFK Stadium. For more information about parking and unloading, read our guide to visiting the National Mall.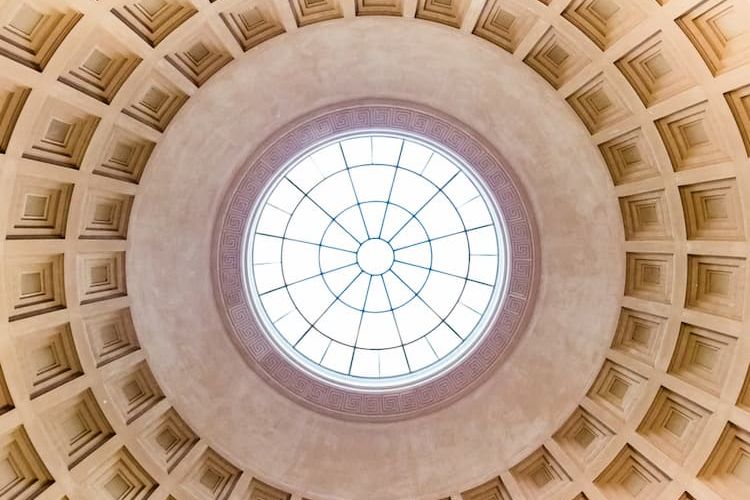 Security
You're allowed to bring bags with you, but they'll be inspected as you enter the museum. Outside food and drinks aren't permitted, so leave those in the overhead storage on your charter bus. The only acceptable drink is water in a sealed bottle.
If you have luggage or other oversized bags, you can leave them in the checkroom—but it's probably easier to just leave them on your bus rental along with your snacks. (Space for luggage throughout your trip is one big advantage of taking a bus instead of a plane!)
Regulations
The museum has multiple regulations in place to protect the artwork and your fellow visitors. Here are a few permitted and prohibited activities that your group should be aware of:
Allowed:
Sketching with pen or pencil
Photos with phone or camera
Texting
Service animals
Not Allowed:
Smoking
Photos with tripods or selfie sticks
Talking on the phone
Pets and any animals who are not service animals
Accessibility
The National Gallery of Art takes pride in offering accessible features to help all travelers enjoy the museum. We've listed a few of the museum's amenities below, but if you have specific questions about accessibility, you can call (202) 824-6905 Monday-Friday from 10:00 a.m.-5:00 p.m. or send an email to access@nga.gov.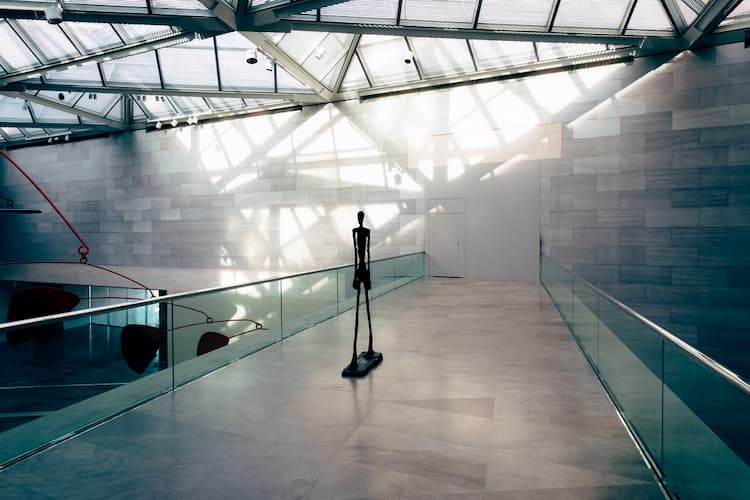 For Visitors with Mobility Aids
The 6th Street entrance to the West Building and the 4th Street entrance to the East Building have ramps, and both those entrances have elevators to take you to the galleries. All public areas of the museum are accessible by either ramp or elevator and include accessible restrooms. The sculpture garden is also wheelchair-accessible. If you didn't bring a wheelchair and need to borrow one during your visit, you can request one from a security officer at any entrance on a first-come, first-served basis.
For Visitors Who Are Deaf or Hard-of-Hearing
Your group can sign up for "ASL at the NGA" tours conducted in American Sign Language with accompanying voice interpretation. If you don't want to sign up for a specialized tour, you can pick up an ASL video tour or a written guide to the museum. The museum's auditoriums have assistive listening devices, and all films shown in the exhibitions have closed-captioning.
For Visitors Who Are Blind or Have Low Vision
All visitors can access audio tours that provide information about the artwork, but if you need more intensive visual descriptions, you can sign up for "Picture This," a tour exclusively for visitors who are blind or have low vision and their companions. Braille transcripts of the audio tour are also available for guests who are both blind and Deaf or hard of hearing.
Other Specialized Events
In addition to "Picture This" and "ASL at the NGA," the National Gallery of Art offers several other accessible events tailored to specific visitors. "Just Us" is an event for people with memory loss and their care partners, while "The Art of Care" teaches caregivers and people working in healthcare how to give their patients a better experience using art. Your group can also sign up for limited-capacity "Sensory Friendly Programs" on select mornings.
Group Tours
If you're traveling with 15 or more adults, you may want to book a one-hour guided tour for just your group. Tours can be booked online 4-8 weeks in advance. Teachers can also request a free tour for their students that's tailored to their grade level and the specific subjects they're studying. Docents will encourage students to examine the art, ask questions, talk with their fellow students, and form their own interpretations of what the art means.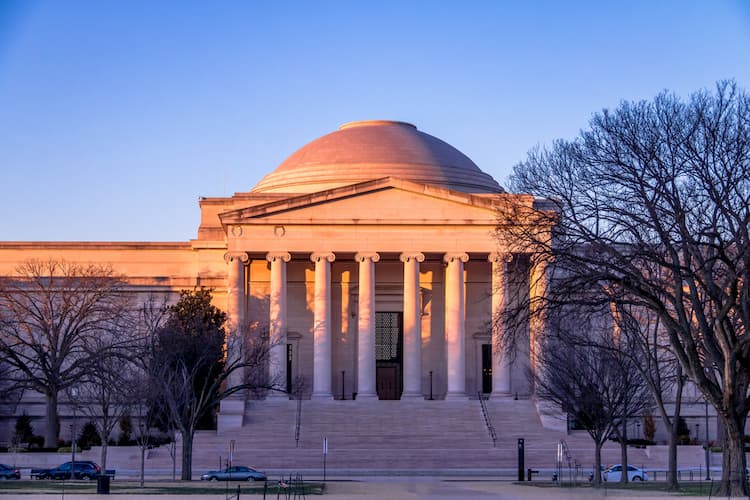 More than 25 school tours are available, and you can request your tour online at least four weeks in advance. You'll receive a confirmation email 10 business days after you submit the form. Your group must include at least 15 students and 1 chaperone, and you can let the museum know if any of your kids have accessibility needs.
Plan Your Group Visit to the National Gallery of Art
Book your group tour, research accessibility features, and reserve your transportation for an amazing trip to the National Gallery of Art. When you're ready to head to the capital, DC Charter Bus Company would love to provide your bus rental. Just give us a call at 202-903-0059, and we'll help you find a charter bus with all the features you need.
Do you need to rent a charter bus?
We can help. Call us any time at 202-903-0059 to reserve yours!