A Guide to Wedding Venues in Washington, DC
If you live near DC, tying the knot in the U.S. Capitol should be on your bucket list (if it isn't already). From the historic architecture to the magnificence of the Potomac River, it's the ideal place to celebrate the union of two hearts. If you're one of the lucky couples that are hosting a wedding, bachelorette party or rehearsal dinner in Washington, DC, you don't need to worry about finding group transportation for your big day.
DC Charter Bus Company provides 24/7 group transportation for wedding guests anywhere in and around the Commonwealth region. Whether you're throwing a reception in downtown DC, hosting a bridal party in the vineyards of Virginia or splurging on a bayside party in Maryland, we can offer you the right bus model for any given occasion. Contact us at 202-903-0059 to start booking your DC wedding transportation today!
Benefits of Renting a Charter Bus for Your DC Wedding
You've booked the venue, hired the caterers, liaised with the florist and paid for the final touches in preparation for your wedding. Now you need to figure out how to get your guests to and from your wedding location without expecting them to travel extended distances (if your venue is deep in the suburbs) or pay for several rideshares (if your events are in multiple locations). This is often challenging for most couples, but DC Charter Bus Company is here to make that process easier for you.
We provide a wide selection of modern minibuses and charter buses for you to choose from. The minibuses include a variety of 18-, 20- and 25-passenger bus models, while the charter bus is usually for larger groups of around 56 passengers. If the trip exceeds the 1-hour mark, we recommend adding amenities to your bus rental to keep your wedding guests occupied. The entertainment-based amenities include free WiFi, flat-screen TVs, electrical outlets, DVD players, and an AV system for party music, while the comfort-based amenities include reclining seats, additional cabin space and an onboard restroom (only available on charter buses).
If you feel like going all-out, we even provide couples with the option to decorate their bus models with custom bus wraps or to opt for ADA-accessible coaches for passengers with mobility concerns. Whatever you decide, DC Charter Bus Company is here to make the transition from almost-married to just-married as streamlined as possible. Contact us at 202-903-0059 for a free bus quote or check out the wedding venues below for some inspiration!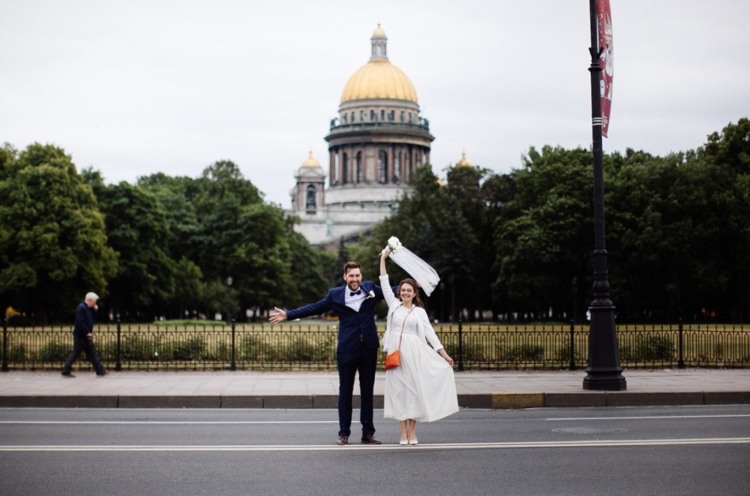 If you love breathtaking views, go to:
Top of the Town Reception and Conference Facility
Address: 1400 14th St N, Arlington, VA 22209
Contact: Fill out this form here.
Distance from downtown DC: 10 mins
Surround yourself with a panoramic view of Washington, DC's famous monuments by hosting your wedding at the Top of the Town Reception and Conference Facility. The ceremony will take place in a glass-walled penthouse and on an outdoor terrace, which provides guests with a stunning view of the Washington Monument, the Lincoln Memorial, the US Capitol and the glittering Potomac River.
The room can accommodate around 180 guests and usually comes with an approved list of vendors to make the wedding planning easier. There is a considerable difference in the weekday and weekend rates. They can start off as low as $1,600 for 5 hours on a Monday or as high as $7,700 for 8 and a half hours on a Saturday.
Top of the Town has its own designated parking lot, but the height restriction prevents charter buses from entering. Since DC is a highly metropolitan city, finding bus parking in the area is slightly tricky. It's important to call ahead and ask the Director of Sales if there is parking nearby. Make sure you travel with appropriate funds since parking fees are not included in the cost of your bus rental.
There are several hotels in the Rosslyn neighborhood of Arlington that can accommodate your wedding guests, such as Le Mïridien or The Virginian. When your guests are ready to go, the charter bus driver will pick them up from their hotel and drop them right off at the Top of the Town entrance, so no one will need to worry about scrambling around in heels.

Sequoia
Address: 3000 K St NW, Washington, DC 20007
Contact: (202) 944-4200
Distance from downtown DC: 7 mins
Are you a fan of avant-garde decorations? Then the colorful light installations and contemporary sculptures at Sequoia are sure to catch your breath. A haven for art lovers, the room isn't the only thing that exudes beauty, as the views of the Kennedy Center, Roosevelt Island and the banks of the river below all contribute to the charm.
This venue has over 5 rooms, ranging from the main dining room that can host a cocktail-style reception of 500 guests to the entire property that includes the outdoor terraces and can accommodate around 1,500 guests. Each private celebration has a custom booking fee, which can be easily requested through their website.
When it comes to parking, Sequoia does not have a designated parking lot, but there are several bus parking spaces nearby, such as Lot 849 on 3220 Prospect St. NW, located 4 mins away from the venue. Make sure your bus arrives ahead of time so you can seize the best parking space before it fills up, or reserve a spot online. It's also important to note that even if your bus is parked a few miles away, your group won't need to walk all the way to the venue and back. Your bus driver will make sure to drop off and pick your group up right at the entrance so that no one needs to walk uncomfortably long distances.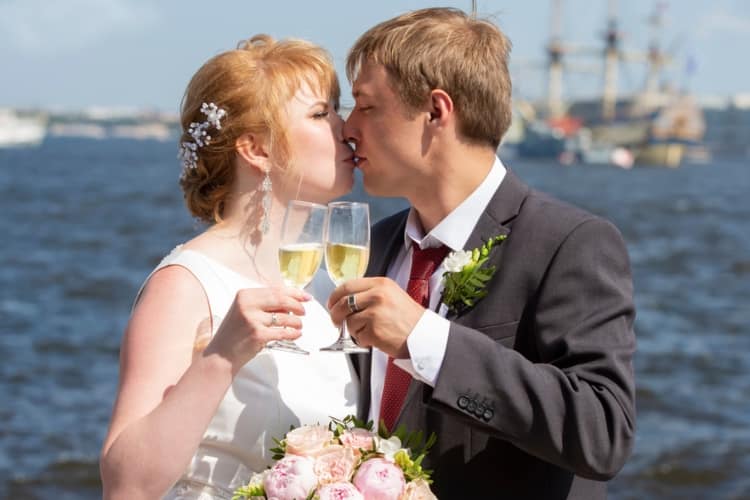 If you love hotel soirées, go to:
St. Regis Washington DC
Address: 923 16th And, K St NW, Washington, DC 20006
Contact: 202-879-6903
Distance from downtown DC: 3 mins
Mix politics with pleasure by getting married at the St. Regis, a mere two blocks away from the White House. Everything about this hotel is regal, from the opulent crystal chandeliers to the cathedral-style windows and the Italian marble floors. But that's just the interior—if you walk outside to the terrace, you'll be greeted with a secret garden-esque feel and find yourself surrounded by blooming flowers and gold sculptures.
There are over 8 event rooms, the Astor Ballroom being the most famous one, with a capacity of 300 people. During winter, you can host your ceremony on the Astor Terrace, which offers a fairy-tale feel with the addition of the Winter Pavilion—a custom tent reserved for outdoor weddings. You can even choose to dine like royalty in the George Washington Room, where you can socialize and create lasting memories with your group.
Before the big day, give your guests an unforgettable DC experience by renting a minibus to take them to the Lincoln Memorial or the Smithsonian National Museum of Natural History, which are just 6-7 minutes away from the St. Regis.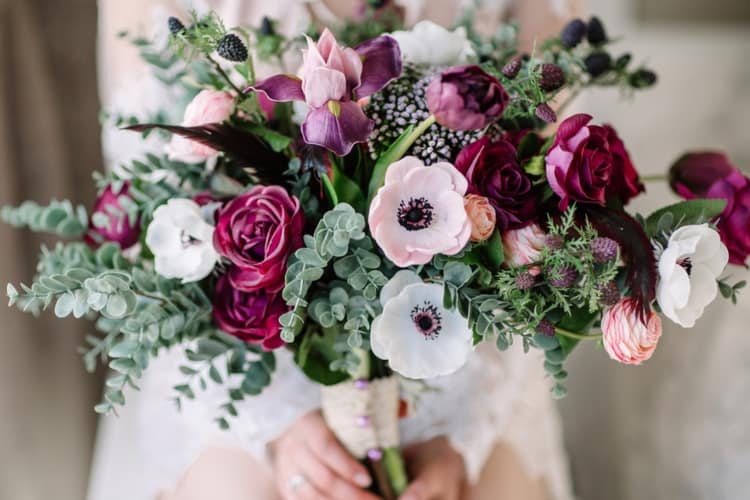 The Mayflower Hotel, Autograph Collection
Address: 1127 Connecticut Ave NW, Washington, DC 20036
Contact: 202-347-3000
Distance from downtown DC: 5 mins
Getting "married at the Mayflower" has a nice ring to it, doesn't it? Known as the "Grande Dame of Washington," the Mayflower Hotel is the largest luxury hotel in the entire District of Columbia and has hosted events such as the inauguration ball of Calvin Coolidge and several presidential campaigns.
It has 6 rooms that can be used for receptions or luncheons, such as the famous Grand Ballroom that can accommodate around 1,150 guests or the District Ballroom, which can host a 300-person celebration. Whichever room you choose, it will stand apart with its rich history, lavish arrangements and decorative carpeting. Customize your day even further by browsing through the wedding packages, and play around with fun hors d'oeuvres, such as the cherry blossom goat cheese puffs or the mini chicken pot pies.
Make the drive easier for your out-of-town guests by reserving suites or hotel rooms at the Mayflower. Your charter bus driver will pick them up from Ronald Reagan Washington National Airport (DCA) and drop them off promptly at the hotel so that they're well-rested for the ceremony the next day.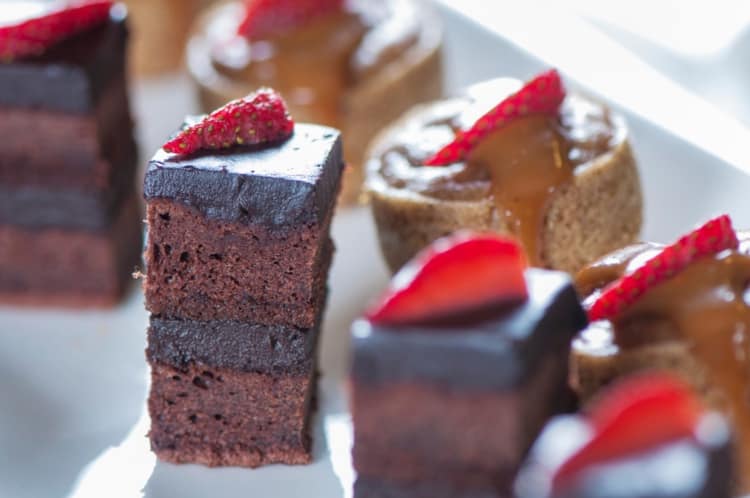 If you love being surrounded by nature, go to:
Potomac Point Winery & Vineyard
Address: 275 Decatur Rd, Stafford, VA 22554
Contact: Fill out this form here.
Distance from downtown DC: 50 mins
Get a taste of Italy in the heart of Northern Virginia by choosing the Potomac Point Winery & Vineyard as your wedding destination. Located amongst rolling green hills and rows of grapevines and surrounded by endless open space, it is the ideal spot for large-scale weddings and professional photo shoots.
The winery is open all year round and can cater to any kind of seasonal wedding. Summer is perfect for longer hours of daylight and warm outdoor patio parties, while in the winter, the winery can set up fire pits and hot cocoa bars for a toasty celebration. There are around 6 rooms on site for private events, such as the stunning Richland Ballroom or the romantic Barrel Room.
Taking a trip before the wedding day? Book a bus and snap memorable pictures with your loved one in the Proposal Tower that has a bird's eye view of the winery or by the Coyote Wine Cave, a hidden nook in the middle of the lush green grounds. Store the camera equipment in the overhead bus cabins, as this will ensure that it's placed in a safe space  away from the rowdy children in your group.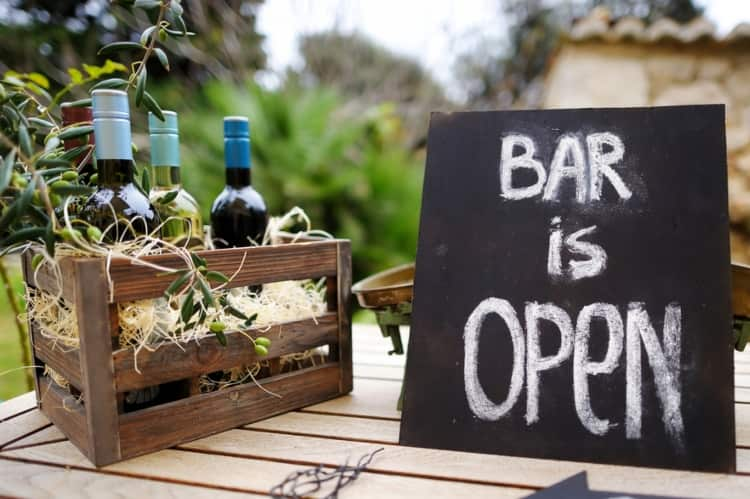 Herrington On The Bay
Address: 7151 Lake Shore Dr, North Beach, MD 20714
Contact: 410-741-5101
Distance from downtown DC: 50 mins
Recreate scenes from the Notebook at Herrington on the Bay, a wedding venue located by the glistening Chesapeake Bay. Surrounded by a large waterfront, it provides a perfect backdrop for afternoon luncheons or idyllic dinners with groups.
There are five locations where you can host private parties. The two main ones are waterfront rooms, known as the Herring Bay Garden and Herrington Yacht Club. The former is perfect for outdoor ceremonies with brilliant views of the bay, while the latter focuses more on lavish indoor events. Another notable one is the Barn at Honey's Harvest, which is located off-site at a farm in southern Annapolis. It is catered towards more intimate events and is more rustic and traditional.
Take advantage of the long 50-minute journey from downtown Washington, DC to North Beach, Maryland, by using the free WiFi on your bus rental. Take cute wedding selfies or live-stream the event from your Facebook or Instagram profiles. When you arrive, it's important to note that the venue offers free parking, so your charter bus driver will be able to park anywhere without being pressed for time.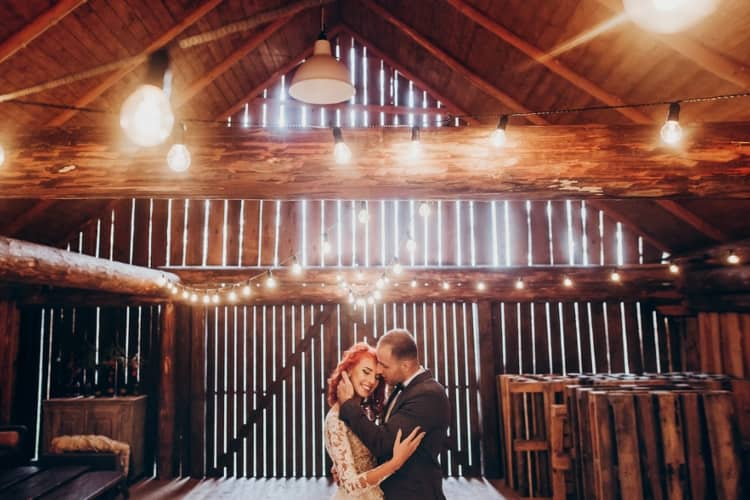 If you love historic decadence, go to:
Dumbarton House
Address: 2715 Q St NW, Washington, DC 20007
Contact: 202-337-2288
Distance from downtown DC: 6 mins
Get the best of historical architecture and unconditional love at Dumbarton House, a multifunctional venue that serves not only as a Federal-style museum from the 1800s but also as one of the best wedding locations in Washington, DC.
There are three sections of the house that are reserved for weddings. The main one is the "Belle Vue Room," a ballroom space focusing on timeless elegance with coffered ceilings and gold accent panels. This room extends onto a lower terrace that can accommodate additional guests under a tent (if the party exceeds 80 people). As soon as guests arrive, they are led through the first floor of the museum, where they can admire the artistic pieces from the Federal period.
The other venues include the North Garden and Upper Terrace, which can also be used for cocktail receptions and private parties. Since preservation of this museum is a priority, Dumbarton House also requires that the hosts purchase event insurance before the big day.
Enjoy an evening filled with delicious food, wine and carefree conversation. Don't worry about finding a designated driver for your event, since your bus driver will transport your wedding guests safely back to their homes. If your guests don't want to carry their belongings inside, they can store them in their bus rental and collect them on their ride back.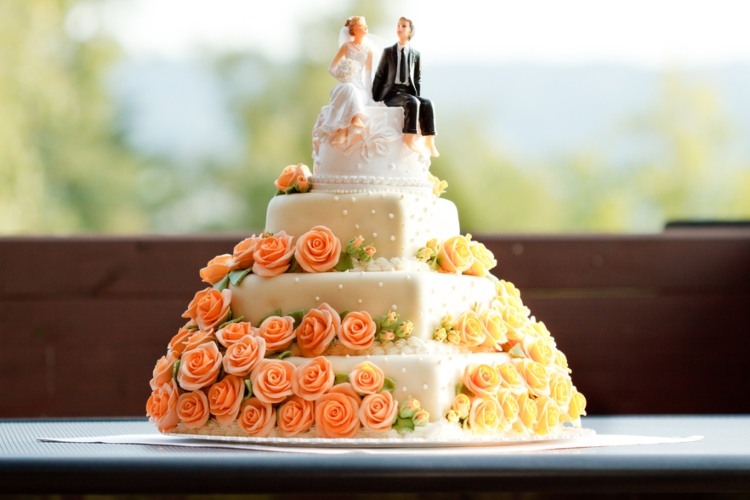 The Mansion on O Street 
Address: 2020 O St NW, Washington, DC 20036
Contact: 202-496-2020
Distance from downtown DC: 5 mins
The Mansion on O Street is best described as "eccentric" meets "luxury boutique hotel" meets "your grandmother's late-nineties living room." The interior consists of various passageways, mazes, 70 secret doors, and quirky decorations placed on almost every possible surface.
Around 9 of the rooms in this facility can host guests, ranging from 12 up to 650 people. The largest is the 'big "o" & club exclusive' that costs a whopping $25,000. The ballroom, on the other hand, will only set you back about $1000 to rent. If you want to spend even less money, the wine cellar can host a reception of 20 people and costs $300 for around 3 and a half hours. In order to make your day even more special, pick and choose between several all-inclusive packages, such as the blushing bride package that features a tropical sorbet carousel or the make-your-own wedding package that includes a variety of international cuisines.
Since on-street parking near the mansion is scarce, it's highly recommended to rent a charter bus for your guests so that they don't need to hunt for parking spaces or shell out $48 for overnight valet parking. If your guests live further away from the city, the reclining seats on the bus ride back to the suburbs are the perfect place to take a nap after the food coma hits.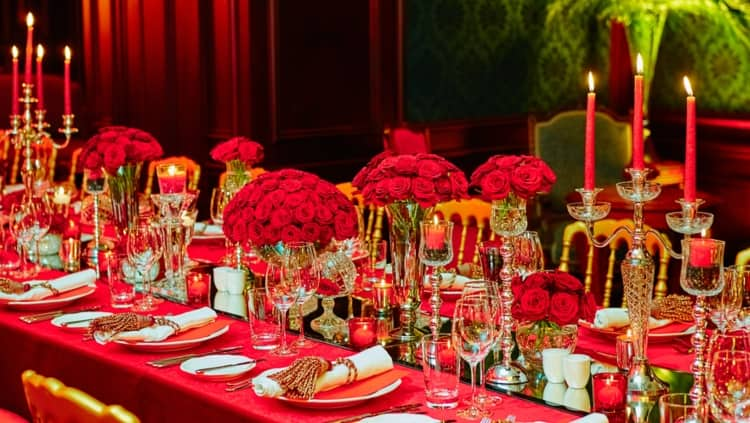 Rent A Private Shuttle for Your DC Wedding Today
Getting married in Washington, DC is an enchanting experience. Whether you go with the classic hotel wedding, a charming small-scale event at a winery, or an outdoor gathering by the Potomac River, DC Charter Bus Company will provide you with some of the finest bus rental options in the area. Even if you decide to host your event in other cities such as Alexandria, Reston or Virginia Beach, we can pair you with a bus rental to take your guests to your wedding destination. Contact us at 202-903-0059 for assistance in booking your wedding transportation or simply to learn more about the current charter bus prices in the DC market.
Do you need to rent a charter bus?
We can help. Call us any time at 202-903-0059 to reserve yours!