Hidden Gems for Groups in Washington, D.C.
D.C. has an incredible number of memorials, free museums, and historical destinations. But if you visit the city often for work, sports tournaments, or field trips, you may be a little sick of going to the Museum of Natural History and the Washington Monument over and over. 
D.C. Charter Bus Company is here to help. We've compiled a list of our favorite hidden gems in Washington, D.C. that you can visit with a large group. And if you're looking for a way to get around without losing anyone on the Metro or having to split up among rideshares, we've got you covered.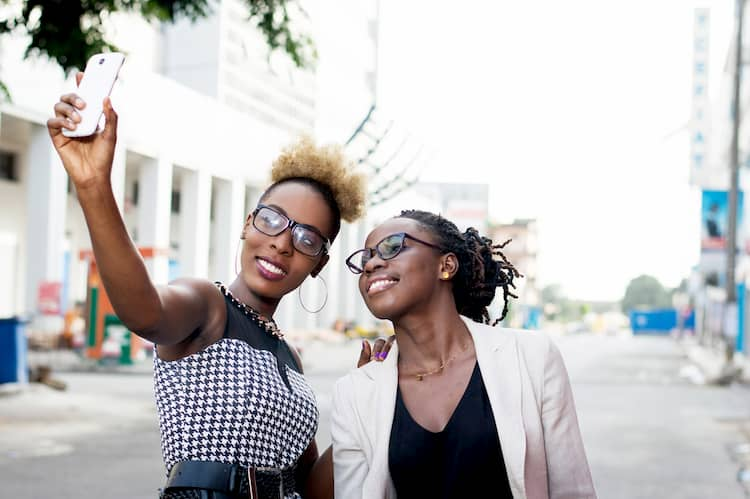 D.C. Charter Bus Company has spacious, air-conditioned charter buses and minibuses to help your group get from Georgetown to the National Mall without the stress of battling D.C. traffic. Just give us a call at 202-903-0059, set up your transportation, and let us take care of the driving while you visit these deep-cut D.C. attractions. 
Museums
Anacostia Community Museum
Sure, the National Air and Space Museum and the National Museum of American History are amazing, but some of the Smithsonian's less-visited museums deserve way more attention than they're currently getting. Located in the historical Anacostia neighborhood, the Anacostia Community Museum is the first federally funded museum dedicated to a single neighborhood and, like all Smithsonian museums, it offers free admission.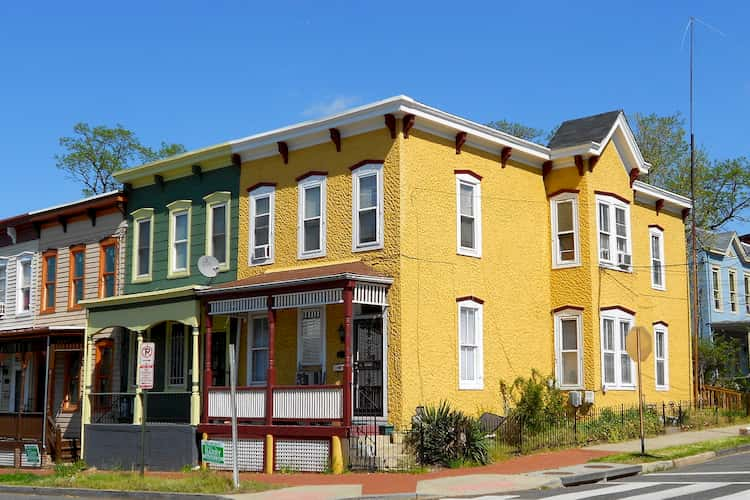 Image link: https://commons.wikimedia.org/wiki/File:Anacostia_HD_DC_13th_n_W.JPG
Anacostia neighborhood
Take your class to rotating exhibits like "A Right to the City," the tale of how African-American and immigrant families in the neighborhood have battled gentrification throughout history, or engage in a free music, fitness, or cooking presentation. Since the Anacostia is one of the few Smithsonian museums not located on the National Mall, it even offers free, on-site parking for your charter bus. 
And while you're in the neighborhood, why not check out The Big Chair, a 19-foot chair sculpture that was the largest in the world when it was built in 1959? Yes, it's really a giant chair—and a great photo op! 
Address: 1901 Fort Place SE, Washington, DC 20020
Phone: 202-633-4820
National Museum of African Art
Another Smithsonian museum that doesn't get the attention it deserves, the National Museum of African Art does lie on the National Mall, so you'll have to ask your bus to drop you off. But this also means that this museum offers the perfect escape when you can't deal with the crowds at the nearby Air and Space Museum or Museum of Natural History.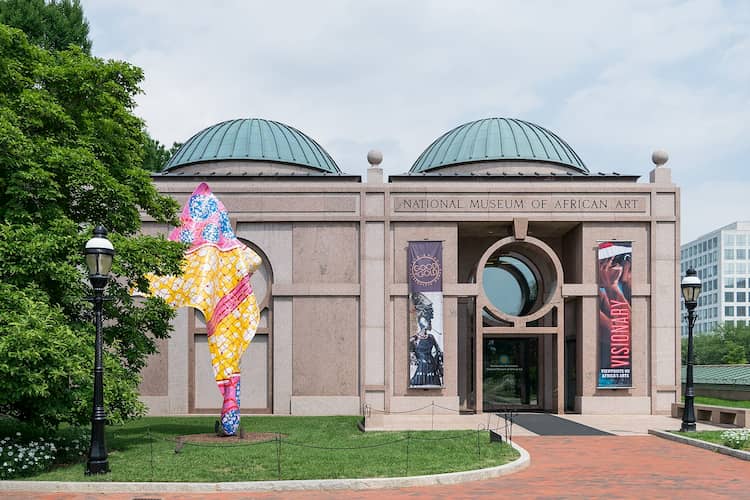 Image link: https://commons.wikimedia.org/wiki/File:National_Museum_of_African_Art,_2019.jpg
In this museum, you'll find sculptures, jewelry, pottery, paintings, and religious icons from across the African continent that date from medieval to contemporary times. Rotating exhibits cover topics like the importance of gold in medieval Saharan Africa, heroes from African history, and contemporary women artists of Africa. If you're leading a school group, you can book a private tour with a museum professional for 15 or more students, and your students can even create their own art after viewing the exhibits. 
Address: 950 Independence Avenue, SW, Washington, D.C. 20560
Phone: 202-633-4600
The Mansion on O
There's nothing typical about this museum/hotel/event space. Home to more than 100 rooms and more than 70 secret doors, The Mansion on O Street hosts themed spaces packed with chandeliers, handwritten manuscripts, sculptures, records, paintings, letters, and sports equipment. 
If you're a Beatles fan, head over to the John Lennon Room, which is completely outfitted with Beatles memorabilia. More interested in civil rights history? Don't miss the Mrs. Rosa Parks Room, where the civil rights hero often stayed from 1994 to 2004. You can book a group tour that's guaranteed to take you to at least 60 rooms and help you find at least 32 secret doors, or, if you're really daring, you can host a corporate team-building event or holiday party in the mansion.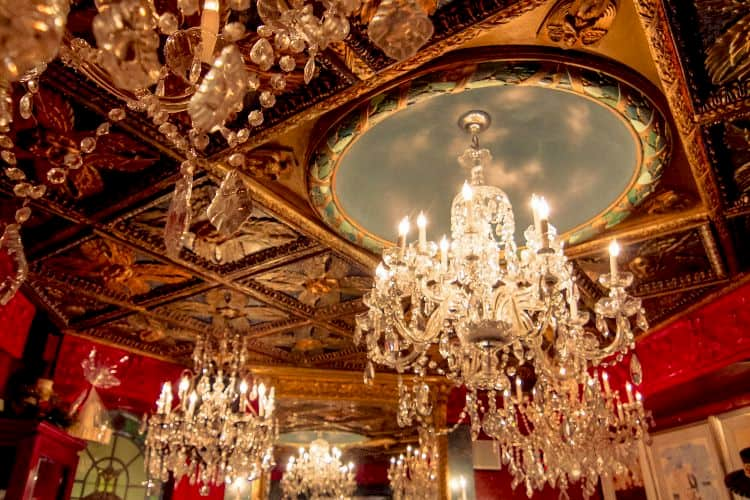 Image link: https://www.flickr.com/photos/rain0975/13573042584/
Parking around the mansion is very limited, so the owners recommend taking the Metro. Your charter bus can take you to the nearest Metro station, but if that's not your style, you can reserve parking through Spot Hero or ask your charter bus to drop you off and return to your hotel. 
Address: 2020 O St NW, Washington, DC 20036
Phone: (202) 496-2020
Staircases
The Spanish Steps
Surprisingly, D.C. has multiple famous staircases. One of them is the Decatur Terrace Steps and Fountain, commonly known as "the Spanish Steps" after the famous staircase in Rome. These beautiful steps lie in the Kalorama neighborhood and were originally built to link S Street with Decatur Place. 
Image link: https://commons.wikimedia.org/wiki/File:Spanish_Steps_-_Kalorama.JPG
Built in 1911, the concrete steps lead up to a terrace where you can stop and rest before climbing the rest of the steps to a fountain adorned with a carved lion's head. The surrounding magnolias, oaks, and eastern red cedars make this a peaceful place to escape the bustle of the city and take some beautiful pictures. You may be able to find parking at nearby Mitchell Park, but this is another location where being dropped off by your bus is probably your best option. 
Address: 1725 22nd St NW, Washington, DC 20008
The Exorcist Steps
If you plan to explore the Georgetown neighborhood, don't miss the creepy stone staircase featured in the 1973 film The Exorcist. Originally built in 1895, these steep steps leading down from 36th St NW to M Street NW became famous when Father Damien Karras threw himself down them in an iconic scene from the movie. The steps were padded with rubber to protect the stuntman, but he had to roll all the way down twice to get the shot.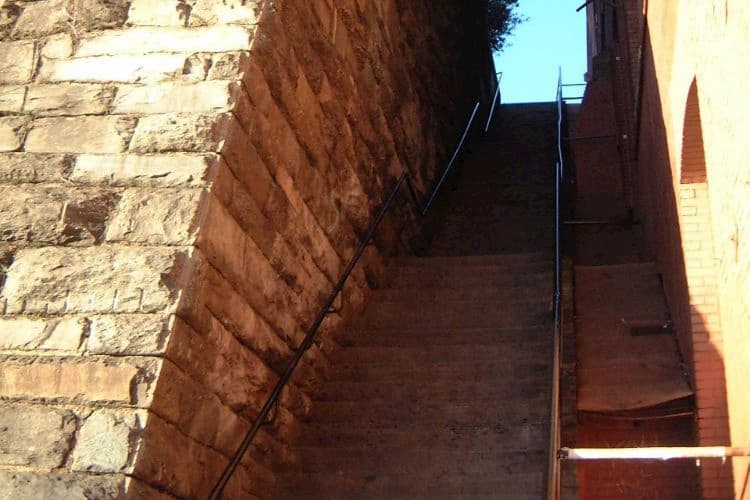 Image link: https://commons.wikimedia.org/wiki/File:The_Exorcist_Steps.jpeg
Now recognized as an official D.C. landmark, the stairs continue to draw horror movie fans and savvy tourists who want a haunting Instagram shot. After you finish looking at the steps, you can walk around the Georgetown campus or join crowds of students at a cool neighborhood restaurant. There are also a decent number of paid parking lots in the area if you'd rather have your bus park than drop you off. 
Address: 36th St NW and M St NW, Washington, DC
Historic Buildings
The Summerhouse
On the West Front Lawn, just off the Senate side of the U.S. Capitol Building, you'll find a red-brick grotto designed by the legendary landscape architect Frederick Law Olmsted. Built just before the turn of the twentieth century, this building has a distinctive hexagon shape and features stone benches where you can rest your feet and enjoy some shade after exploring the Capitol Building or its grounds. 
To enter the Summerhouse, you'll pass through an arched doorway with a wrought-iron gate. Inside the house you'll find a fountain that used to provide water for visitors, but now is purely ornamental (don't worry, though—the Summerhouse does have a more modern drinking fountain your group can use). If you peer through a small window built into the summerhouse, you can even see a secluded grotto.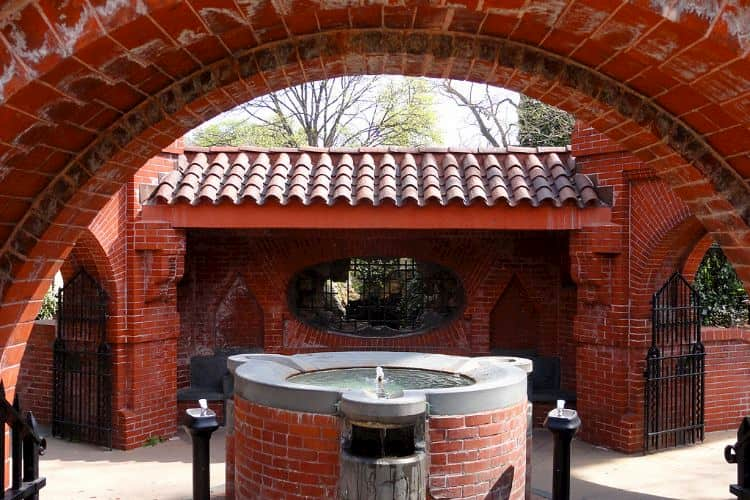 Image link: https://commons.wikimedia.org/wiki/File:Summerhouse,_U.S._Capitol_Grounds.jpg
The parking location closest to the U.S. Capitol is the Union Station Parking Garage Bus Terminal. Charter bus drivers can drop their groups off and buy a permit to park in one of 32 spaces designated for buses. Don't let your bus drop your group off anywhere but within the bus terminal, though: unloading on the street outside of Union Station is strictly forbidden and will lead to a ticket. 
Address: First St SE, Washington, DC 20004
President Lincoln's Cottage
This historic cottage lies on the grounds of what was once a home for wounded soldiers and is now the Armed Forces Retirement Home. President Lincoln and his family spent the "hot season" (roughly June to November) here in 1862, 1863, and 1864 because Lincoln appreciated the cool breezes and relative tranquility. While living at the cottage, Lincoln met with self-emancipated people, visited the wounded soldiers next door, and worked on the Emancipation Proclamation. 
Image link: https://commons.wikimedia.org/wiki/File:Lincoln%27s_Cottage_Front_Entrance.jpg
Today, you can bring your school or tour group inside this piece of history to see exhibits like "Wartime Washington," "Lincoln the Commander-in-Chief," and "Lincoln's Toughest Decisions." Because the Armed Forces Retirement Home has high security, you'll need to stop at the Robert H. Smith Visitor Education Center to check in and show ID before proceeding to the cottage. Free on-site parking is located next to the education center. 
Address: 140 Rock Creek Church Rd NW, Washington, DC 20011
Street Art
Graffiti Cliffs of Georgetown
If you have a group that's a little bit daring, stop by the Graffiti Cliffs of Georgetown after you visit the Exorcist steps. This outcropping covered in colorful graffiti offers beautiful views of the Potomac River and the Key Bridge. You'll have to be careful of your footing, so this location isn't ideal for people with mobility concerns, but the sight of the river, the bridge, and Virginia in the distance is truly stunning.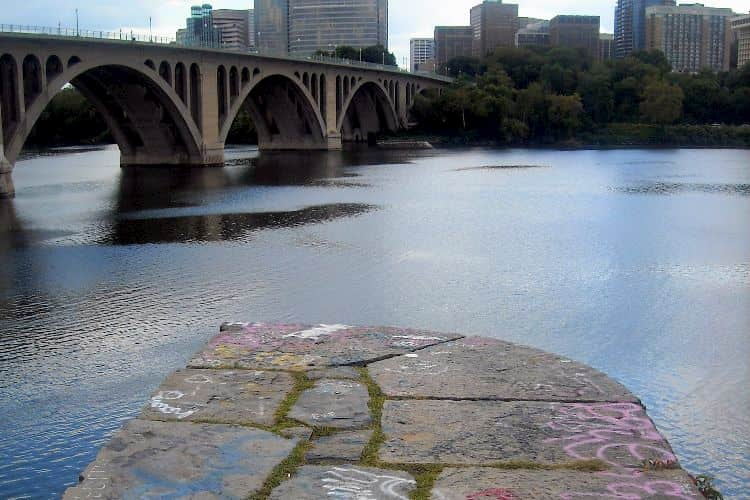 Image link: https://www.flickr.com/photos/ncindc/2878645806/
Your charter bus won't be able to take you all the way out to the cliff, but you can get dropped off near the Key Boathouse and then walk onto the rocks. There's free 3-hour parking across the street from the boathouse, but it tends to fill up quickly. So you should try to visit early in the morning or late in the evening if you want a better chance of finding room for your bus. 
Address: 3500 Water St NW, Washington, DC 20007
DC Alley Museum
The Shaw neighborhood has earned a reputation as one of the trendiest, artsiest neighborhoods in D.C.. Its famous Blagden Alley is home to a series of murals painted on garage doors that have become some of D.C.'s most iconic street art. Parking is limited, but the area does have paid lots if you want your charter bus to wait for you while you wander past the murals.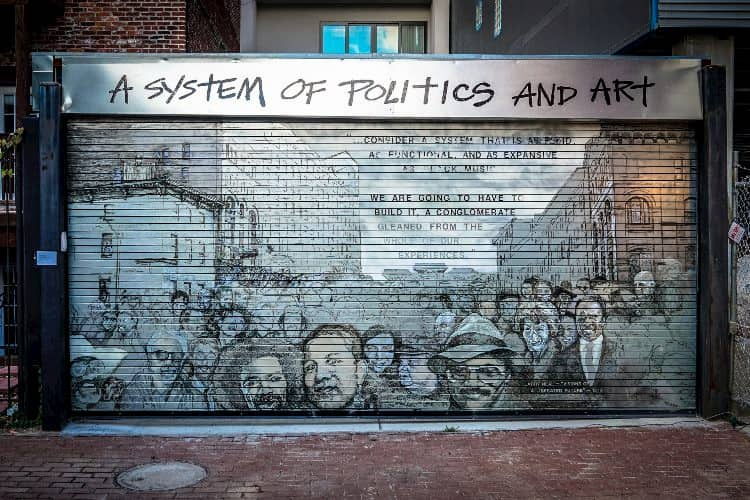 Image link: https://www.flickr.com/photos/taedc/22393475354
In 2015, D.C. established an official Alley Museum in Blagden Alley. They invited acclaimed local artists with ties to the neighborhood to paint a series of murals. The collection now includes "Maker of Saints," a mural of musician Erykah Badu and actress Lymari Nadal, "Space is the Place," which once again includes Erykah Badu, accompanied by musician Sun Ra, and "A System of Politics and Art," which shows protestors marching in D.C. 
Address: Blagden Alley NW, Washington, DC 20001
The Technicolor Church
D.C. is one of the few places you can spot a church painted in a swirling array of rainbow colors. When the former Freedom Baptist Church was chosen as the site of a new community arts center for Delaware Ave SW, Atlanta-based artist Alex "Hense" Brewer was asked to give the church a paint job to reflect its new purpose. It's now covered in a brightly colored mural you have to see to believe.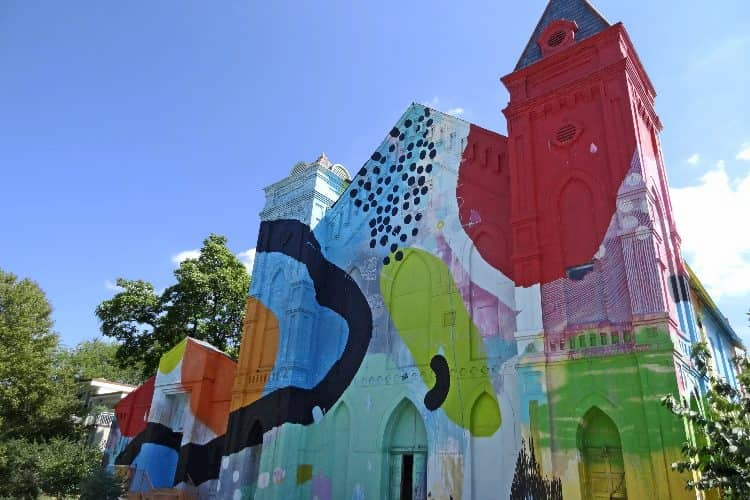 Image link: https://www.flickr.com/photos/77662096@N06/20942916142
Inside the painted church, you'll find The Culture House, a gallery and performing arts space that frequently features art classes and live concerts by local musicians. The space also hosts group events like weddings, corporate gatherings, and banquets. Parking is mostly limited to street parking and paid lots, but your charter bus can always drop you off and park at a location a bit farther away, such as Union Station (see the Union Station parking tips under the Summerhouse). 
Address: 700 Delaware Ave SW, Washington, DC 20024
Memorials and Monuments
Titanic Memorial
D.C. has plenty of memorials, but if you've already seen the Washington Monument, the Lincoln Memorial and the Vietnam Veterans Memorial, expand your horizons by visiting the Titanic Memorial. Situated at the northern end of Fort McNair, about a 15-minute walk from Nationals Park, the memorial is a 15-foot granite sculpture that looks like a man about to take flight. 
The sculpture was erected by the Women's Titanic Memorial Association to honor the men who didn't get on lifeboats to leave room for women and children, and one of their conditions was that the memorial be created by a woman. Designed by the wealthy and influential Gertrude Vanderbilt Whitney, the memorial was finally completed in 1930 and moved to its current location in 1968 to make room for the Kennedy Center for the Performing Arts.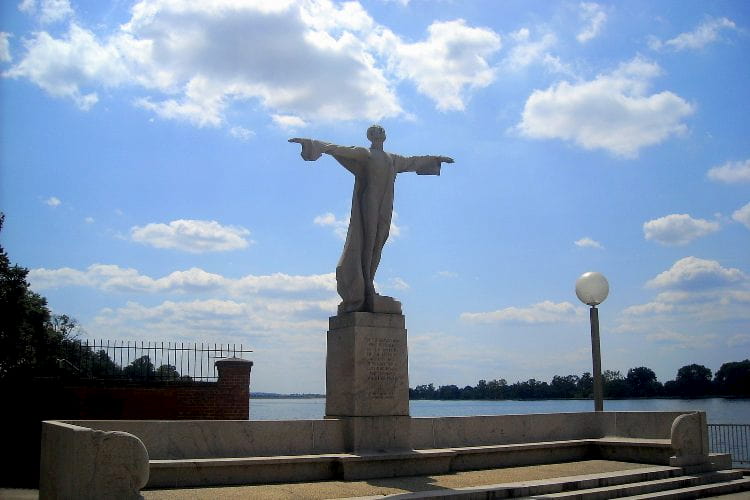 Image link: https://commons.wikimedia.org/wiki/File:Titanic_Memorial_-_Washington,_D.C..jpg
Although the statue's current position isn't the easiest to find, it does offer beautiful views of the Washington Channel. You may not be able to locate parking along the waterfront, so you'll want to ask your charter bus to drop you off. After you see the statue, you can relax in Southwest Waterfront Park or walk farther north to experience the District Wharf area. 
Address: 325 P St SW, Washington, DC 20024
Albert Einstein Memorial 
Near the Vietnam Veterans Memorial, you'll find the National Academy of Sciences and its giant bronze statue of Albert Einstein. The 12-foot sculpture was inspired by a bust the sculptor Robert Berks created of Einstein while the scientist was still alive, so it truly does look like him—just bigger. 
Einstein's statue sits on a three-step bench made of white granite and holds a paper engraved with equations that describe three of his most important discoveries: the photoelectric effect, the theory of general relativity, and the equivalence of energy and matter. On the steps you'll see quotes from the famous physicist, and the star map at the statue's base uses 2,700 metal studs to represent all of the stars and planets present in the sky on the statue's dedication day.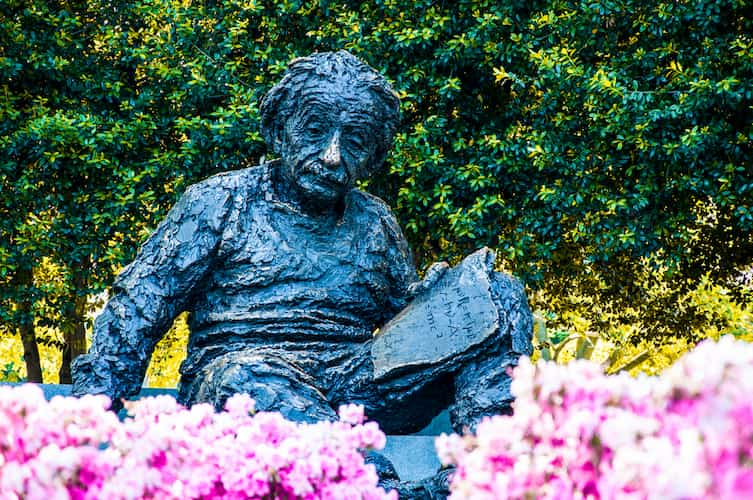 Located in the midst of an elm and holly grove, this memorial is a peaceful place to take pictures with your group. Since the statue is on the National Mall, your bus won't be able to access it directly, but your driver can drop you off and take the bus to Union Station or back to the hotel. Once you're back on the bus, use the optional WiFi to upload pictures of your group perched on Albert Einstein's leg to Instagram. 
Address: 2101 Constitution Ave NW, Washington, DC 20418
Explore D.C.'s Deep Cuts with Your Group
Next time you want to impress your coworkers or friends with your knowledge of D.C., just ask your charter bus to drop you off at one of these lesser-known landmarks. D.C. Charter Bus Company works with experienced drivers who can take you to Lincoln's Cottage just as easily as they can take you to the Lincoln Memorial. Give us a call at 202-903-0059 and book your quirky sightseeing trip in D.C. today!
Do you need to rent a charter bus?
We can help. Call us any time at 202-903-0059 to reserve yours!