Group Guide to Touring Washington DC Colleges
As the Nation's Capital, it's only natural that Washington D.C. is home to numerous historic and prestigious universities. High school seniors or transfer students setting their sights in D.C. will have more than 20 universities to choose from.
With so many campuses to see and notoriously bad traffic in D.C., your group of university hopefuls should have comfortable, safe, and efficient transportation for your tours. D.C Charter Bus Company has group transportation services for college tours of all sizes. Renting a charter bus or minibus in D.C. will offer your students the best travel experience possible while touring local campuses. Whether your school group is planning to visit one campus or visiting multiple in one day, DC Charter Bus Company can ensure everyone has a smooth ride. Everyone can relax in reclining seats and with climate controls after a long day of walking around campuses in D.C. Your modern charter bus rental can also come with WiFi, TVs, and power outlets for an even better ride.
Call the D.C. Charter Bus Company team at 202-903-0059 to reserve a motorcoach for your group tour of D.C. college campuses!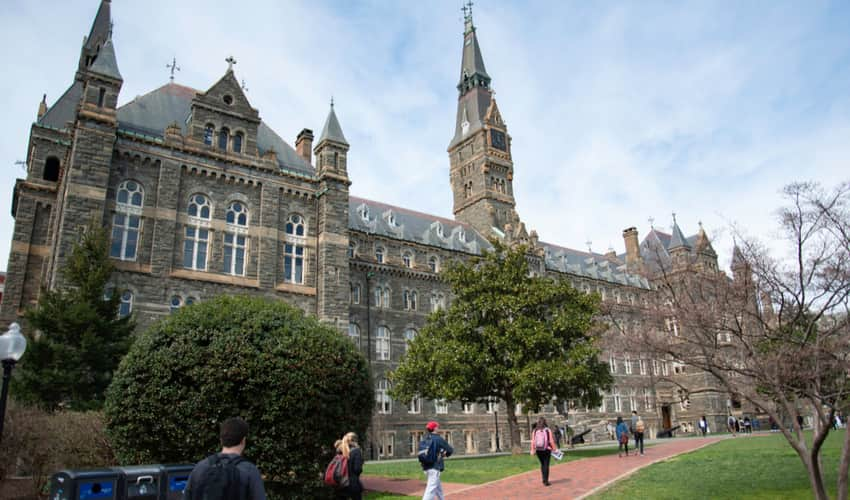 Georgetown University
Office of Undergraduate Admissions Address: 37th St NW, Washington, DC 20057
Phone:  202-687-3600
Established in 1789, Georgetown has Jesuit Catholic roots and is the oldest university in the DC metro area. Georgetown has held a prestigious title as one of the best universities in the country since its establishment more than 230 years ago. As a major educational player in the U.S. In The Capital City, many undergraduate students major in competitive programs like political science and government, international relations, finance, and economics.
Visits to Georgetown University must be requested at least three weeks in advance for groups with between 15 and 50 students. Campus tours last about an hour and accompanying information sessions with an admissions representative  last around 45 minutes. At this time, visitors will not be allowed to enter University buildings and it is highly recommended that guests are fully vaccinated for Covid-19.
Charter bus rental parking: Free bus parking near Georgetown can be found in the 3500 block of Water Street NW.
George Washington University (GW)
Admissions Welcome Center: 800 21st St NW Suite 100, Washington, DC 20052
Phone: 202-994-6040
GW was founded in 1821 after America's first president, George Washington, advocated for establishing a national university in his first State of the Union. Today, GW is the largest institution of higher learning in Washington D.C and among the most active research universities in the country. Some of the most popular majors at GW include international relations, research psychology, finance, nursing, and medical laboratory programs.
Group tours are limited at this time during the ongoing pandemic. Campus tours last around 90 minutes and are led by student guides. You'll see the historic Foggy Bottom campus and can also tour GW's Mount Vernon campus with prior registration. Information sessions cannot be done in person at this time but can be accessed on-demand online.
Charter bus rental parking: GW is very close to the White House and National Mall, making parking options a bit difficult. Bus parking can be found within the  200 and 400 blocks of 15th Street NW.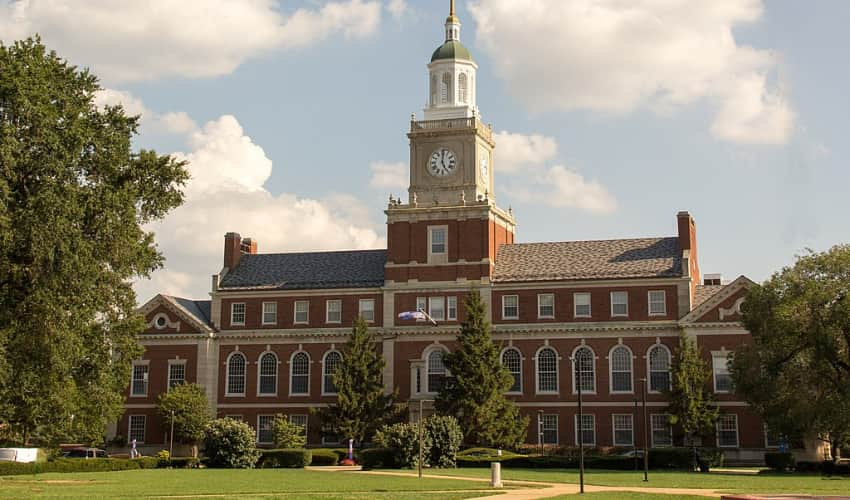 Howard University
Office of Admission Address: 2400 6th St. NW, Washington, D.C. 20059
Phone: 202-806-2755
Howard University stands as one of the country's most prestigious Historically Black Colleges and Universities (HBCU). The university was founded in 1867 and is a fundamental cornerstone in the advancement of African American education after the Civil War. Howard also holds the distinction of establishing the first Black law school in the nation and remains a top law institution in D.C. to this day. Many undergraduate students study biology, political science, and communications, while grad school is popular for law and medical students.
Keep in mind that group tours are postponed at this time. Once group tours resume, school groups are welcomed to make a reservation for 100 or fewer guests. Tours are offered September through May and include a one-hour walking tour of campus with a Student Ambassador. Be sure to request your tour at least 2 weeks in advance.
Charter bus rental parking: Parking is very limited on Howard's campus. Visitor parking can be found at the Howard Center lot and meters along local streets. Oversized vehicles like charter buses will likely need to park off-site from campus. Inquire about parking at the time of your tour reservation.
American University (AU)
Admissions Welcome Center Address: 4400 Massachusetts Avenue, NW Washington, DC 20016
Phone: 202-885-1000
American University is a Methodist institution that was founded in 1893. AU is among the top 100 universities in the country and also has one of the most politically active student bodies in the nation. As such a politically active school, many AU undergraduates major in international relations, political science and government, criminal justice, and business. AU also has a driven and active roster of student clubs, so AU hopefuls will have plenty of extracurriculars to choose from.
Group tours are available for 15-students. Tours can include a one-hour walking tour of the AU campus and 45-minute information sessions can be added on by request. All group tours must be requested at least two weeks in advance and visitors will be required to wear face coverings while inside campus buildings
Charter bus rental parking: When you request your group tour, be sure to specify that you'll be traveling by charter bus. You'll be directed to where your charter bus can drop everyone off and park.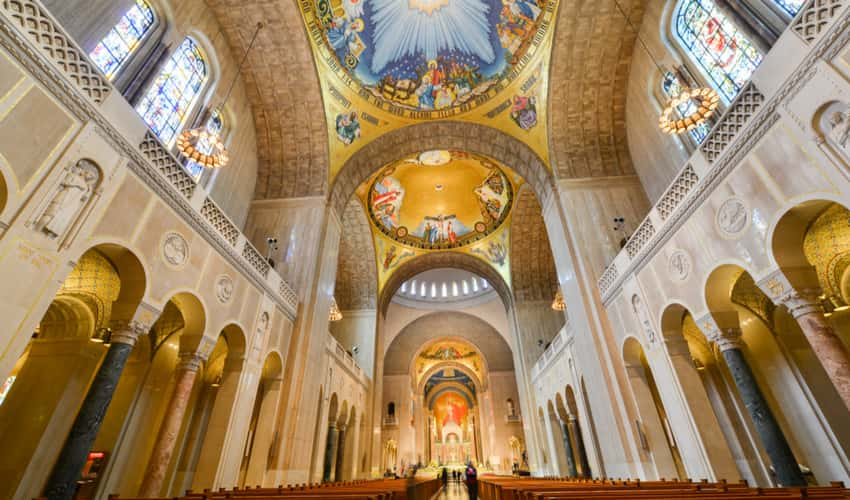 Catholic University of America (CUA)
CUA Office of Admissions Address: 620 Michigan Ave NE, Washington, DC 20064
Phone: 202-319-5000
With its campus sitting at more than 176 acres, The Catholic University of America is D.C.'s largest school by land size. The school's campus is filled with beautiful historic buildings, including the famed Basilica of the National Shrine of the Immaculate Conception. Although the campus is sprawling, CUA has around 3,200 undergraduate students, which affords relatively small class sizes and a strong sense of community. A few of CUA's most popular programs include nursing, political science, psychology, and marketing.
Group tours are available for students at the 9th-grade level and older. The university recommends that groups are 50 visitors or less to ensure you can be properly accommodated. Requests must be submitted at least two weeks in advance.
Charter bus rental parking: A parking lot can be found at the Admissions Office but charter bus rentals likely won't be able to park here. When you reserve your group tour, inquire about on-campus parking for your charter bus rental. Additional oversize parking can be found about 3 miles south at Union Station.
Tour D.C. Universities with A Charter Bus
Seeing D.C.'s top universities is just a comfy charter bus ride away! Students and chaperones can stretch out in reclining seats, stream music with onboard Wifi, and charge up mobile devices with power outlets at every seat. Reserve your D.C. charter bus at 202-903-0059 for your next campus tour!
Do you need to rent a charter bus?
We can help. Call us any time at 202-903-0059 to reserve yours!