Group Guide to Visiting Alexandria
If you love history and want a change of pace from DC's packed monuments and memorials—consider visiting Alexandria. As DC's smaller neighboring city, Alexandria is packed with preserved 18th- and 19th-century buildings, historic districts, plenty of quaint local shopping areas, and waterfront views of the Potomac.
Keep on reading to learn more about the best ways to travel to Alexandria with a group and where to go once you get there!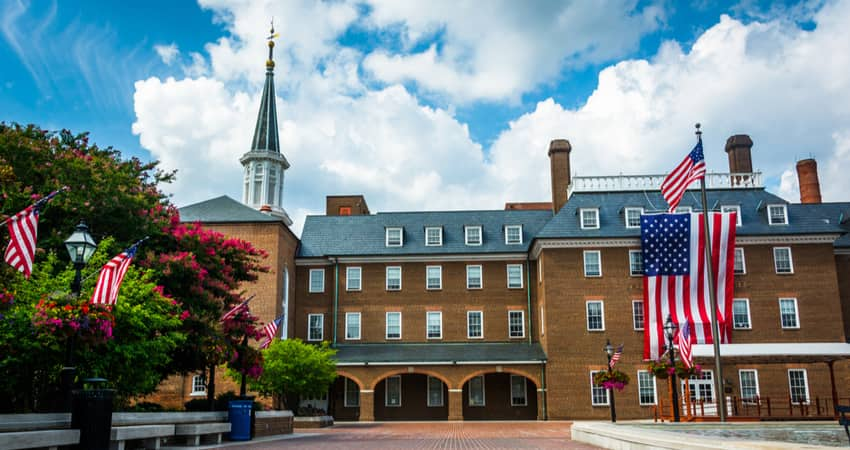 How to Travel from DC
Organizing a group tour of Washington DC can be stressful, but thankfully,  traveling around Alexandria is generally less hectic. Groups looking for a stress-free ride between DC, Alexandria, Arlington, Virginia Beach, or other local areas may want to consider a private charter bus rental.
DC Charter Bus Company has handled group transportation services for private group tours throughout the area. The fleet of vehicles in the DC Charter Bus Company network includes minibuses and character bus rentals for tour groups of all sizes. Each charter bus can be equipped with amenities like WiFi, TVs, and reclining seats to make the quick 25-minute drive from DC as comfy as possible.
A 25-minute drive down George Washington Memorial Pkwy or I-295 from DC can easily double with the area's notorious traffic. That's why having a private charter bus rental with comfortable amenities and a pro driver is the best way to take on the roads! Just call 202-903-0059 to chat with a DC Charter Bus Company representative for a personalized bus rental price quote!
Where to stay
Alexandria has a great selection of hotels for all budgets. Most hotels offer group discounts for room blocks. If your group is staying overnight in Alexandria, you should also ensure that you book a room for your charter bus driver.
Here are a few popular hotels to consider when booking your accommodations in Alexandria:
The Alexandrian Old Town Alexandria, Autograph Collection
Best for: groups wanting an upscale, historic hotel.
Address: 480 King St, Alexandria, VA 22314
Phone: 703-549-6080
Embassy Suites by Hilton Alexandria Old Town
Best for: relatively affordable and convenient lodging.
Address: 1900 Diagonal Rd, Alexandria, VA 22314
Phone: 703-684-5900
Hotel Indigo Old Town Alexandria, an IHG Hotel
Best for: riverfront views of the Potomac.
Address: 220 S Union St, Alexandria, VA 22314
Phone: 703-721-3800
Things to Do in Alexandria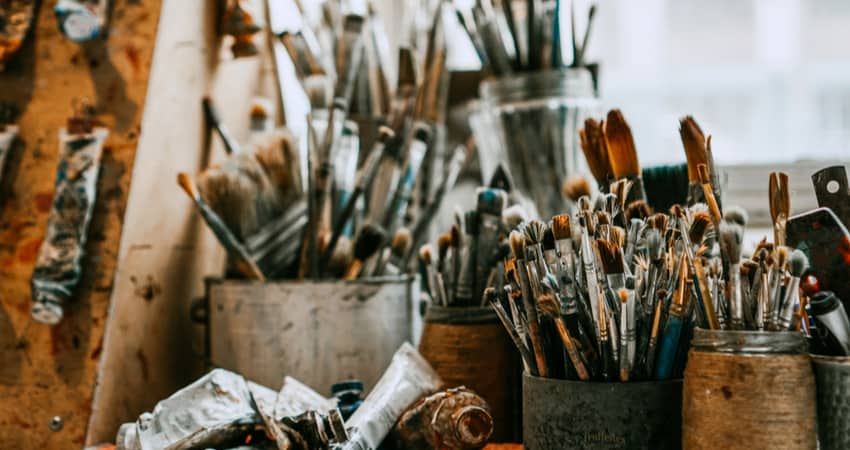 Browse local art at Torpedo Factory Art Center.
Address: 105 N Union St, Alexandria, VA 22314
Phone: 703-746-4570
Located on the banks of the Potomac River in Old Town Alexandria, this old naval munitions factory was converted into an arts center in 1974. The Torpedo Factory is one of the largest collections of artists' studios in the country. The center also houses multiple art galleries and workshops that host events, classes, and educational programs for school groups.
Charter bus rental travel tip: A designated bus loading and unloading zone can be found on the corners of King Street and Strand Street.
Visit the George Washington Masonic National Memorial.
Address: 101 Callahan Dr, Alexandria, VA 22301
Phone: 703-683-2007
Alexandria's George Washington Masonic National Memorial is the largest privately constructed memorial in the country. It was proposed in 1852 by Washington's Masonic home lodge, Fredericksburg Lodge No. 4. Construction was completed in 1932 and was designed to mirror the ancient Lighthouse of Alexandria in Egypt. Today, the 9-story monument is open to the public for public guided tours or private group tours with prior reservations.
Charter bus rental travel tip: Short-term, long-term, and overnight parking is available for charter buses and oversized vehicles at the Masonic Memorial. Permits must be obtained through the City of Alexandria.
Stroll around the Alexandria Historic District, Old Town Alexandria, and King Street.
Alexandria Visitor Center at Ramsay House Address: 221 King St, Alexandria, VA 22314
Phone: 703-838-5005
Old Town Alexandria is located within the Alexandria Historic District with picturesque historic buildings and cobblestone roads dating back to 1748. Strolling around the beautiful neighborhood is sure to be a wonderful place for groups of architecture lovers. As you walk around the district, you'll see well-preserved buildings in Late Victorian, Colonial, and Federal architectural styles. Notable buildings include the Gadsby's Tavern Museum, Carlyle House, Christ Church, and the Bank of Alexandria.
If your group wants to eat or shop, Old Town's King Street is one of the best places to visit. King Street also stretches down to the Old Town Alexandria Waterfront where you can enjoy a cool breeze off the Potomac River.
Charter bus rental travel tip:  A reserved parking area for charter buses and oversized vehicles can be found at the 500 block of North Union Street. There are only five spaces and each must be reserved through the City. Multiple loading and unloading areas can be found along King Street and neighboring roads.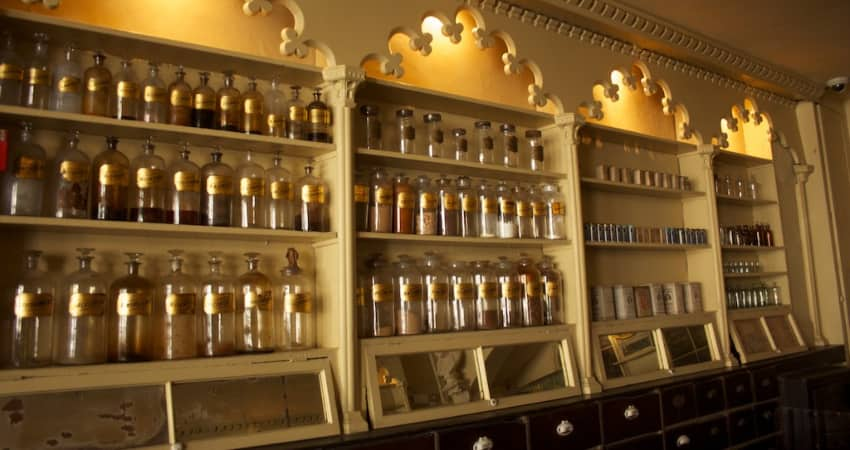 Tour the Stabler-Leadbeater Apothecary Museum.
Address: 105-107 S Fairfax St, Alexandria, VA 22314
Phone: 703-746-3852
There are a handful of historic museums in the Old Town District, but the Stabler-Leadbeater Apothecary Museum is one of the most unique. The Alexandria apothecary was opened in 1805 by Edward Stabler and was run by his extended family for generations. At its height, the apothecary provided medical items to more than 500 pharmacies throughout the country. Once the Great Depression hit, the long-time apothecary shuttered its doors. The building was converted into a museum in 1939, displaying original antebellum gothic revival furnishings and ingredients historically used in old medicine. The museum has limited hours but does offer guided group tours with prior reservations.
Charter bus rental travel tip: A charter bus loading and unloading zone can be found in front of the City Hall/Market Square on King Street.
Group-friendly Places to Eat in Alexandria
Alexandria has a long list of local restaurants with delicious food to satiate any and all palate. Though, not every local eatery is the easiest to dine in if you have a large group. Here are just a few of Alexandria's best restaurants that can accommodate big groups:
Virtue Feed and Grain
Address: 106 S Union St, Alexandria, VA 22314
Phone: 571-970-3669
Virtue Feed and Grain is one of Alexandria's most popular eateries. The New American eatery is located in a renovated 18th-century grain storehouse just across the street from the Old Town Alexandria Waterfront. Order creative American fare like the duck poutine, blackened rockfish, and umami burger. Virtue Feed and Grain takes reservations and has multiple private dining spaces for 12 to 175 guests.
Vaso's Mediterranean Bistro
Address: 1118 King St, Alexandria, VA 22314
Phone: 703-566-2720
This chic Mediterranean bistro serves up tasty dishes like stuffed flounder, shrimp scampi, and grilled veal chops. Vaso's offers private dining and event spaces for groups on its cozy second floor with reservations.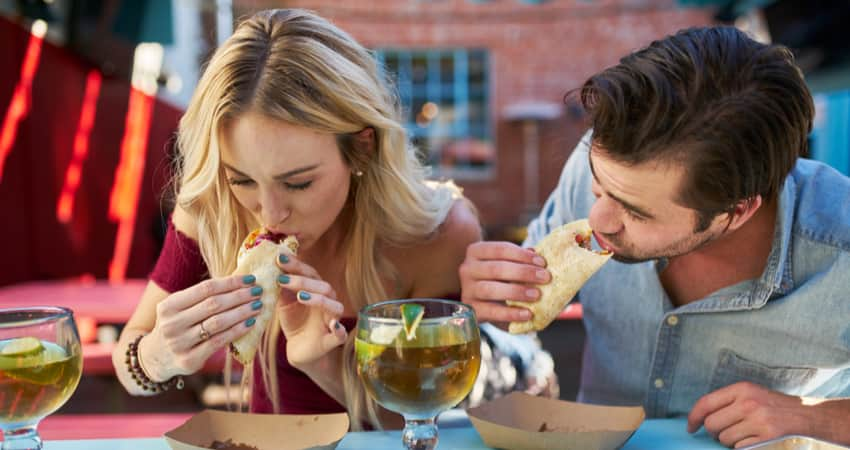 Chop Shop Taco
Address: 1008 Madison St Alexandria, VA 22314
Phone: 571-970-6438
If you're looking for a quick, casual bite and maybe a few tasty cocktails, Chop Shop Taco in  Parker-Gray is the place to go. The hip taco shop is housed in an old 1970s chop shop car garage and has a variety of bites like quesadillas, street corn, and roasted mushroom tacos. Chop Shop Taco does take reservations for small groups of 6 or fewer people but slightly larger groups can try to snag seats upstairs, on the patio, or at the bar.
Vola's Dockside Grill/High Tide Lounge
Address: 101 N Union St, Alexandria, VA 22314
Phone:  703-935-8890
With a spacious dock patio overlooking the Potomac River, Vola's is one of the best restaurants in Alexandria for waterfront dining. Along with being popular for lunch and dinner, Vola's also draws big crowds for brunch and happy hours. Chow down on crabcakes, lobster rolls, and raw oysters. Group reservations can be made online and private dining spaces are available for group events.
Charter bus rental parking tip: Parking will vary depending on the restaurant you choose. Most restaurants in Alexandria's historic areas won't have their own parking lots. Groups will need to find metered street parking.
Visit Alexandria with DC Charter Bus Company
Keep your group trip in Alexandria running right according to schedule with a rental from DC Charter Bus Company. Whether you're just visiting for an afternoon or you're adding some time in Alexandria to a multi-day DC trip, you'll have a comfortable and smooth ride! Rent a charter bus in DC, Alexandria, and beyond at any time by calling 202-903-0059.
Do you need to rent a charter bus?
We can help. Call us any time at 202-903-0059 to reserve yours!