Group Guide to Visiting the National Museum of African American History and Culture
With so many museums and memorials in Washington DC along the National Mall, it may be difficult to narrow down which ones your group should visit. Among the many Smithsonian museums in the area, The National Museum of African American History and Culture (NMAAHC) is one you should put on your must-visit list. It's the only museum in the country solely dedicated to the documentation of African American life, culture, and history.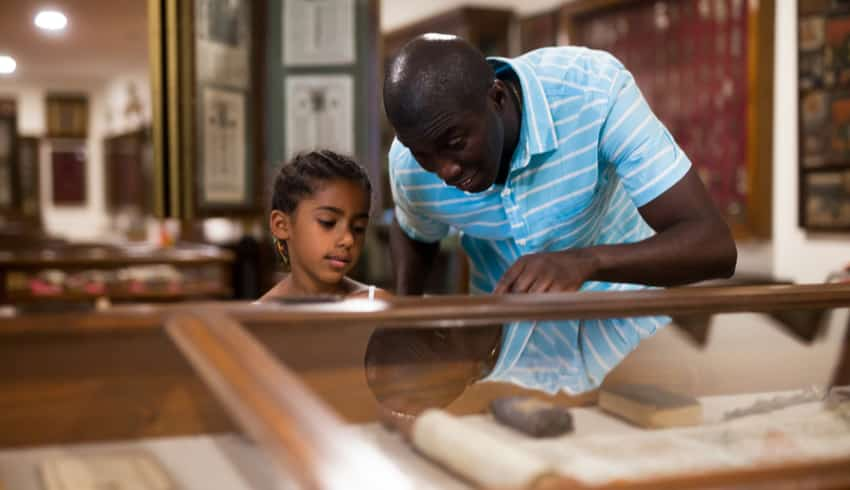 A Note on Safety
As with many DC museums and attractions, the NMAAHC is temporarily closed due to the ongoing pandemic. Once the museum reopens, there will likely be several new rules and regulations in place to keep visitors and museum staff safe. This may include timed-entry tickets, limited guest capacity, restrictions on large organized groups like field trips, and facial covering requirements.
How to Travel to the NMAAHC
As you create your DC itinerary and plan your day at the NMAAHC, you'll want to consider how you should travel. Groups traveling for private tours, school field trips, or any other type of group trip should consider a private bus rental. DC Charter Bus Company can provide a quick and efficient charter bus or minibus for your trip to the NMAAHC. Renting a bus in DC can simplify your travel plans by keeping your group together and by working on your unique schedule. Spend as much time as you want at the NMAAHC and other DC museums without rushing to hop on a pre-scheduled tour bus or struggling to navigate public transit. Call 202-903-0059 at any time to reserve a bus rental for your DC museum visit.
When to Visit
Choosing when to visit the NMAAHC will depend on your group's travel preferences. To avoid big crowds, you'll want to visit the museum in the fall or winter. Spring and summer bring the largest crowds and uncomfortably warm weather.
Where to Park
The NMAAHC is located on the National Mall between the Washington Monument and the Smithsonian National Museum of American History. Like most museums on the National Mall, the NMAAHC does not have a private parking lot. You'll need to organize bus dropoff, pickup, and parking off site. Washington DC has very strict guidelines for oversized vehicles traveling around the mall, so you'll want to thoroughly review motorcoach and group tour guidelines.
A designated bus dropoff location can be found directly in front of the NMAAHC on Madison Drive. If the dropoff area is exceptionally busy, additional dropoff locations can be found nearby between the 1700 and 2200 Blocks of Constitution Ave NW.
Designated charter bus parking can be found here:
200-400 block of 15th Street NW, free, 2-hour time limit
1500 block of Independence Avenue NW, free, 2-hour time limit
Union Station Parking Garage, $20-25 depending on the time of day and year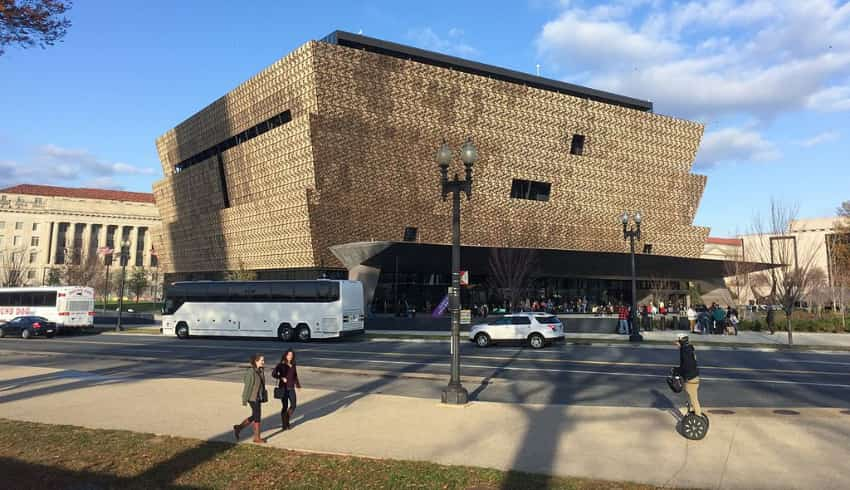 Admission and Group Tour Options
As with other Smithsonian Institutions on the National Mall, general admission to the NMAAHC is completely free. Guided public tours and docent-led community conversations are available throughout the year. Tour and program options can be found here before your visit. If you're traveling with a school group, the NMAAHC requires that you make a reservation through its website ahead of time.
Keep in mind that most National Mall museums that are open during the ongoing health crisis are only allowing groups of up to 6 visitors, and in-person tours are temporarily suspended. Once the NMAAHC reopens, your group size will likely be limited, you'll need timed-entry passes, and you'll only have self-guided tour options.
Guest Accessibility
The NMAAHC is fully-accessible for guests with mobility concerns. Ramps, escalators, and elevators can be accessed throughout the museum to make navigating the 4-story space as easy as possible. Manual wheelchairs are also available at the front desk on a first-come, first-serve basis.
Guests who are blind or experience low vision can utilize braille maps available at the welcome desk. All of the museum's exhibits can be accessed via the verbal description mobile app Aira. Service animals are also welcome on the museum grounds. If a member of your group is hard of hearing, you can request an ASL guide during docent-led tours. Just notify the museum at least two weeks in advance if you'll need this service.
Collection Highlights
Since opening in 2016, the NMAAHC has been one of the most-visited museums in DC. The museum has 85,000 square feet of gallery space with more than 40,000 objects. Only around 3,500 objects are on display at a time in permanent and rotating special exhibitions that cover more than 400+ years of African American history. From pre-20th century slavery artifacts to memorabilia from Barack Obama's 2008 presidential campaign office, the NMAAHC covers monumental parts of history through the lens of the African American community.
Seeing everything in the museum can take up to four hours, so make sure you have comfy shoes on. Here are some of the critically-acclaimed exhibits you may see during your visit: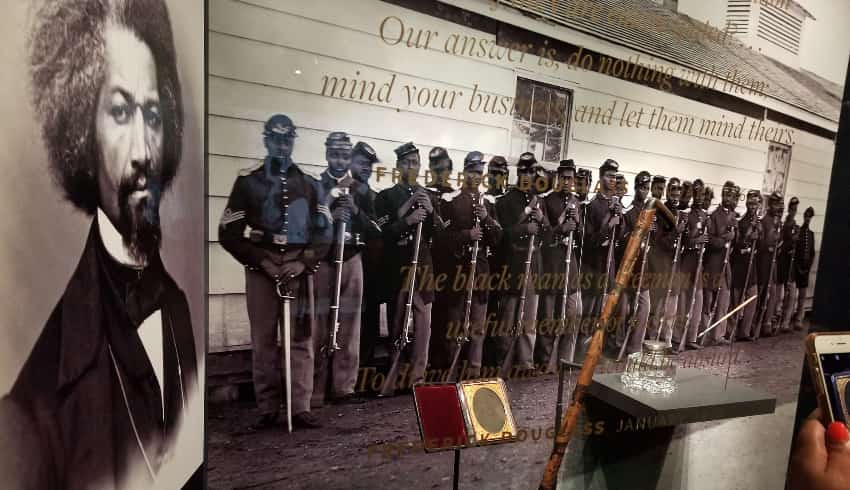 Slavery and Freedom
This exhibit explores the long and complex history of slavery in America. You'll learn about how the slave trade began in the 15th century, how it developed as the United States formed as a country, and how African American freedom changed the nation. Objects on display in this exhibit include Harriet Tubman's shawl, an original slave cabin from Edisto Island, and Nat Turner's Bible.
Double Victory
For quite some time, African American contributions to military and wartime endeavors were glazed over in history. The Double Victory exhibition sheds light on the African American military experience since 1770. You'll learn about important figures like General Hazel W. Johnson, who was the first African American woman to be named a general in the Army, and General Daniel "Chappie" James Jr, one of the most-decorated Tuskegee Airmen in the Air Force.
Defending Freedom, Defining Freedom
Defending Freedom, Defining Freedom illustrates the challenges African Americans were faced with during the Segregation Era of 1876 to 1968. After more than 250 years of slavery, African Americans had to continue fighting for rights and redefine what it truly meant to be free. This exhibit covers major Civil Rights Movement-era happenings like the development of the NAACP, the founding of HBCUs, and, of course, historic events like the Greensboro counter sit-ins and the Montgomery bus boycotts.
A Changing America
A Changing America focuses on the political, cultural, and economic experiences of African Americans after the peak of the Civil Rights Movement. The exhibit explores the continued discussion of freedom and justice after 1968, including the Black Power Movement and more recent activism with the Black Lives Matter Movement. Not only will you learn about the chronological history of these movements, but you'll also learn about their contributions to developing Black art and education and inspiring other social justice movements.
Musical Crossroads
Black culture has played a major role in shaping American music throughout the years. Musical Crossroads explores how African American musicians became the voice of social change and innovation in the music industry. You'll learn about African American pioneers in rock 'n' roll, gospel, hip hop, and classical music. One of the coolest parts of this exhibition is Chuck Berry's 1973 red Cadillac Eldorado that was one of his most-prized vehicles in his fleet of Cadillacs.
Plan a Day at the NMAAHC with DC Charter Bus Company
Ready to plan a group trip to the National Museum of African American History and Culture? Booking your DC bus rental will only take a few minutes! Get your transportation squared away by calling 202-903-0059. A DC Charter Bus Company rental expert will get you a free, personalized bus rental quote to help you explore the nation's capital with a stress-free group ride.
Do you need to rent a charter bus?
We can help. Call us any time at 202-903-0059 to reserve yours!